Food vouchers to replace cash loans for UK's needy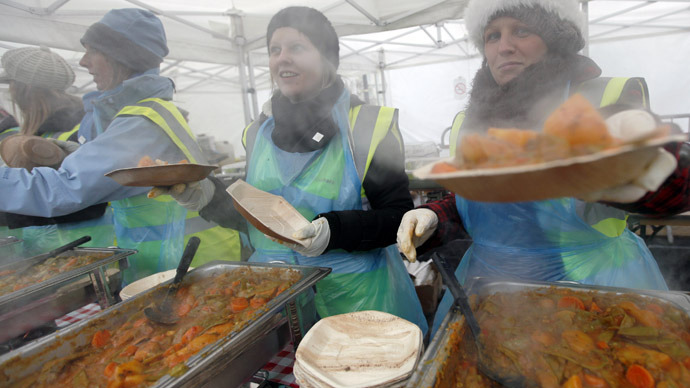 Charities and campaigners are worried that food vouchers replacing cash loans will push Britain's most deprived further into poverty and encourage crime, but advocates claim they're necessary to stop misuse and save money.
On April 1, local authorities in the UK will offer one-off vouchers for goods such as food and diapers, and will stop offering emergency cash loans. The vouchers will be issued in the form of payment cards, which can be blocked and monitored to prevent them be used for alcohol, cigarettes and gambling, the Guardian reported.
The move follows a decision by the central government to abolish its social fund and replace it with 150 locally run welfare-assistance schemes, which will be managed by local English authorities and the Scottish and Welsh governments. 
Previously, the social fund offered small cash loans of about £50 ($75), which were repayable against benefits, in order to help vulnerable people facing a short-term crisis as a result of having their benefits delayed or money stolen.
Bigger cash grants of up to a £1,000 ($1,510) were offered to ex-prisoners, victims of domestic violence and people with a disability, in order to help them buy things such as beds and clothing needed to live independently.
Councils say the changes are needed as they face cuts in their welfare allowance of up to one-third mandated by the central government. They also argue, as do some charities, that the current system of crisis loans is abused by people – often young men without dependents – who do not use the loans for genuine emergencies.
The government spent £230 million ($347 million) on the social fund in 2009 and 2010, but the 2013 to 2014 budget has allocated £178 million ($268 million) to local authorities, who say they now have no option but to give people vouchers, refer them to food banks and drastically tighten eligibility.
As funds for crisis help are squeezed, local authorities will also have to deal with a leaner benefit system aimed at saving £18 billion ($27.1 billion), which also comes into force in April.
They are also worried that changes to the benefit system, which will be known as universal credit and is being introduced between 2013 and 2017, may lead to an increase in poorer households turning to local councils for help from welfare schemes, or relying on overstretched charities.
Tim Nichols, a spokesperson for Child Poverty Action Group, told RT that he was not confident that charities would be able to fill the gap left by the government. "It's a big worrying experiment in relation to how well the charity sector is going to be able to step into the breach," he said.
Charities are currently bracing themselves for a rise in crisis support, at a time when they are least able to deal with it.
Even in London, where property prices are among the highest in the world, a report released Wednesday by the London assembly health and environment committee found that that a rising number of low-paid and unemployed people are unable to afford or access healthy food because of the rising cost of living.
Figures compiled by the Trussel Trust found that in 2009, there were six food banks in London handing out emergency food aid to 400 people; by 2012 to 2013, this number had risen to 40 food banks supplying 34,000 people.

 Abolishing the social fund will leave people 'high and dry'
Critics say that the new locally managed vouchers system will repeat the shortcomings of cashless payment cards given to asylum-seekers. The cards often left them unable to buy essential non-food items, and made users turn to more risky or criminal ways of acquiring cash.
"There's a lot of naivety. The social fund is big and meets a whole range of needs. There's going to be an awful lot of people that will need to tap in to its successor," a welfare charity worker told the Guardian. 
As councils start to turn people away and refer them to charities and soup kitchens, Lady Lister, a Labour peer and expert on poverty, said it would leave the most vulnerable people "high and dry… The social fund was a safety net under the safety net. I do not call putting money into food banks a safety net."
But there is also some understanding amongst critics that councils are being given a near-impossible task by a government desperate to reduce its welfare bill.
"Local authorities have been given a difficult task, to deliver support on a reduced budget at a time of rising need. But we are seriously concerned that some authorities will not be providing any access to cash to families to meet their essential needs, and may be offering support in a way that serves to stigmatize those who need it,"  Alison Graham, chief executive of the Child Poverty Action Group said.
There are also concerns that some of the schemes will not be ready by April 1. Despite a huge growth in the numbers of food banks in the past two years, many parts of the country will have few charities offering food assistance.
The Furniture Re-use Network, a charity that assists over 750,000 low-income families in the UK every year, said a survey showed that two-thirds of its members do not believe that the system will be ready in time.
Postcode lottery
There are also significant differences in how the schemes will be administered throughout the UK, fueling fears of a welfare-assistance postcode lottery.
Each authority has drawn up eligibility rules, setting out who will qualify for crisis help and the conditions under which it will be given. One authority plans to make emergency help conditional on good behavior.
The Conservative-run Hampshire council plans to invest a big chunk of its welfare fund allocation in charities and food banks, while Bristol city council will restrict emergency payment cards use to food, heating, toiletries and diapers.
You can share this story on social media: