Starved Britannia: Sharp rise in use of food banks during school holidays across UK
Published time: 10 Aug, 2013 19:11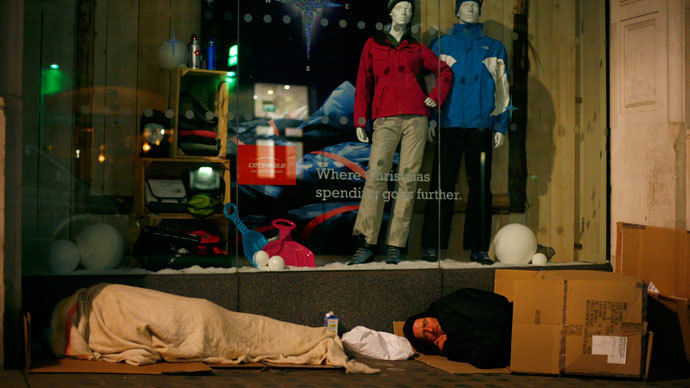 Food banks across the UK are experiencing exceptionally large demand as nationwide benefit cuts take effect. Britain's largest food aid charity says food requests have doubled this summer – and it's blaming the recent government welfare reforms.
The Trussle Trust, which has the largest network of food banks in the UK, says that this summer is the busiest it has ever seen.
According to the charity, parents whose children get free school lunches during term time are struggling the most, as they now have to find money for an extra meal every day.
The full data is not yet available but a snapshot from 18 food banks around the country all show demand skyrocketing over the summer holidays, which begin in the second or third week of July for most UK schools.
Grantham, a middle-class town in the relatively affluent county of Lincolnshire, saw a 61 per cent increase in food bank demand from June to July. The working-class town of Redcar saw an increase of 71 per cent in June, while the city of Dundee, Scotland saw a 43 per cent jump in demand.
Blackburn, a deprived town in Lancashire, was forced to open a special summer holiday distribution center in response to a 58 per cent jump in demand over the last two weeks.
"This is the busiest summer we've had. If people are on low incomes and are struggling to cope with price increases and making ends meet, if you remove one of the supports they have – like when their children don't get free food – they're instantly in difficulty," executive chairman of the Trussell Trust, Chris Mould, told The Independent. 
But even before school holidays began, welfare reforms were having a significant effect on those who rely on assistance in order to put food on the table.
Between April 1 and June 30, exactly 152,154 people received three days' worth of emergency food – this figure is three times higher than the number of people who needed the same assistance last year.
According to figures from the Trussle Trust, almost 350,000 people across the UK received food aid from the organization in 2012. That was in addition to assistance offered from smaller food aid charities which do not publish regular data of how many people they help.
Mould believes that reforms and changes to the welfare system are the most likely to blame for the sharp rise in food handouts.
"We see a lot of people who've had their benefit sanctioned in ways which, on the face of it, seem inappropriately punitive. We meet people who've had their benefits stopped because they were late for an appointment," Mould said.
Lynda Battarbee, a development officer for the Trussle Trust in the north-west of England, also blamed changes to the social security system which took effect on April 1.
"The need here has doubled. Anecdotally this does seem to be to do with welfare reform – for some, the bedroom tax and other changes have pushed them over the edge. We've had lots of families whose kids don't want to leave school because they know they'll go hungry," she said.
Figures held by the Trussle Trust show that the number of people referred to them because of problems with their benefits has soared, from 20 per cent eight years ago to 52 per cent today.
But a spokesman for the Department for Work and Pensions was adamant that welfare reforms were not to blame.
"The benefits system helps millions of people who are on low incomes or unemployed and there is no evidence that welfare reforms are linked to increased use of food banks," the spokesman insisted.