UK loads up rubber bullets for student march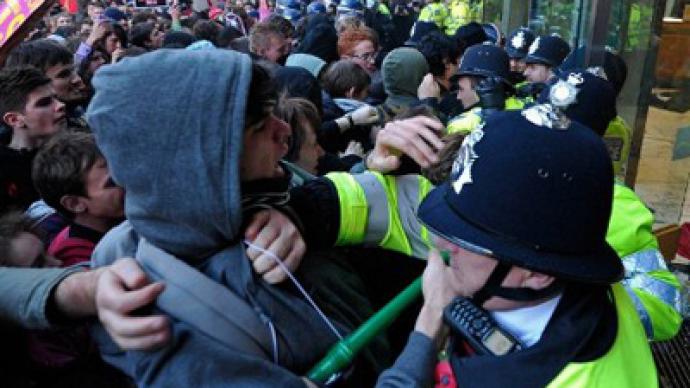 Police in London are preparing for war as students prepare to march on Wednesday. The Metropolitan Police Service (MPS) has authorized firing rubber bullets on the 10,000 students expected to march with the National Campaign Against Fees and Cuts.
Fears prevail that a repeat of August's riots, which left five dead, scores injured, could be on the cards if tempers flare. Then, police were slammed for a weak response to shocking public disorder riot wave that swept the country.
MPS Commissioner, Sir Paul Stephenson, was also dressed down for only deploying 225 officers during similar student protests last year which saw the Conservative Party headquarters ransacked on November 10. But it's clear this time the riot squads will be ready to pull the trigger.
With one officer for every two and a half demonstrators, Scotland Yard won't be outmanned this time as a 4,000 strong force is set to be deployed.          
Resorting to such an unprecedented use of force is reminiscent of tactics employed by dictatorships the UK is ostensibly opposed to.  Plastic bullets, which were used extensively by HM's forces during the troubles in Northern Ireland, killed some 14 people, including 9 children, between 1973 and 1981.  
The president of the Association of Chief Police Officers, Sir Hugh Orde, who deployed plastic bullets while serving in Northern Ireland, was highly critical of the latest MPS decision: "I do not think it would be sensible in any way, shape or form to deploy water cannon or baton rounds in London. Baton rounds are very serious bits of equipment. I would only deploy them in life-threatening situations. What is happening in London is not an insurgency that is going to topple the country," he told the Guardian.  
Police are also hoping to keep Occupy London protestors camped out at St Paul's cathedral from joining the students.  However, many camping outside the cathedral support the latest round of student-led protests, and they are expected to link up despite the potential of heavy-handed, even deadly, police tactics.
You can share this story on social media: