UK local councils to be given power to ban peaceful protests - report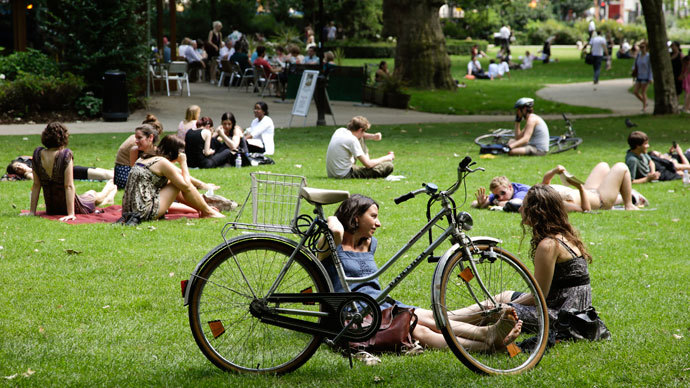 As the Anti-social Behaviour, Crime and Policing Bill passes through British parliament, campaign groups warn it is "shockingly open-ended" and could prevent peaceful demonstrations, as well as forbid youngsters from skateboarding or using local parks.
Councils are being granted the contentious new powers under the grounds that any activity that annoys nearby residents will be criminalized, the Independent reported.
Contained within a little-noticed section of the bill are public spaces protection orders (PSPOs), which are meant to give local town halls the power to tackle anti-social drinking, aggressive begging, and dog-fouling, in certain areas. The Home Office has insisted that it will stop certain urban areas from being turned into "no-go zones."
The PSPOs will replace alcohol-control zones, dog control orders, gating orders, and local by-laws.
People who break the new restrictions will have to pay on-the-spot fines. Those penalties could be issued by private security guards working on commission for local councils.
Campaigners say the legislation is problematic because it is so loosely worded that the new laws could be used to stifle peaceful, legitimate protests and criminalize teenagers and other groups of society.
The legislation, which would be directed at "all persons or only to persons in specified categories," have raised fears that certain groups - such as trade unionists, skateboarders, or even rough sleepers - could be discriminated against. 
"This bill has shockingly open-ended powers within it that could allow councils to ban everything from protests, to outdoor public meetings, to children's skateboarding. The list is endless. The Home Office says they don't think councils will use the law in this way, but this is not good enough. They should not be handing councils open-ended powers in the first place," Josie Appleton, convener of the civil liberties group the Manifesto Club, said.
There is also concern that the changes to local by-laws will lead to restrictions of access to wide-open areas of recreation, such as common land to which the public has traditionally always had access.
But the minister responsible for crime prevention, Norman Baker, has defended the law and says it will only target people acting antisocially.
"The coalition government is simplifying the complex array of antisocial powers introduced by the last government. This power will make it easier to stop the behavior of those who act antisocially, turning our spaces into no-go zones. It is not aimed at restricting legitimate users," he said.
The scheme was born from the government's stated commitment to localism, which aims to give more powers to individual communities. However, those in power in local neighborhoods are often not representative of everyone in that community - and this is where potential problems could lie.
You can share this story on social media: