UK Child Poverty set to soar as spending cuts bite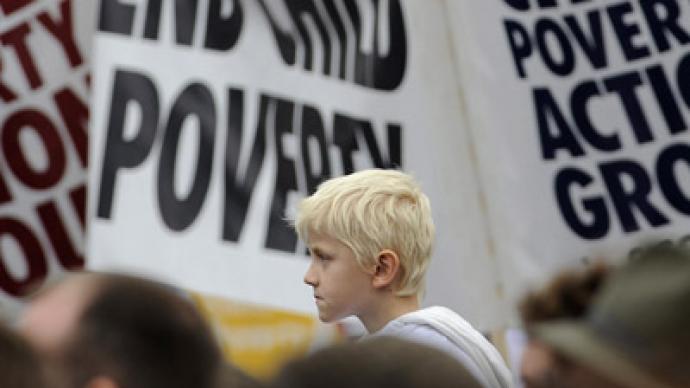 Broken promises for children. UNICEF warns that coalition cuts will lead to return to child poverty levels of two decades ago.
The report states that levels of 'relative' and 'absolute' child poverty in the UK are expected to reach 24% and 23% of children respectively by 2020 – compared to the target figures of 10% and 5% set by the previous labor government.Although currently thought to be stable, the child poverty rate is predicted to begin rising again in 2013.UNICEF says poverty puts children's future health, education and employment prospects at risk.Tim Nichols of the Child Poverty Action Group told RT that he is concerned "child poverty is about to dramatically worsen. Independent analysis by the Institute for Fiscal Studies suggests child poverty will surge by 100,000 children a year due to the government making children and families a prime focus for their austerity agenda."He said that the 20 billion in cuts to the welfare budget by this government was bound to have an effect on children and families on low incomes.Nichols said that the three big things keeping children in poverty in Britain were decent jobs, affordable housing and welfare adequacy, "There are too many people out of work; while too many people in work are on such unfair levels of pay. The cost of housing alone is so out of control that this contributes 1.2 million children to the total of 3.8 million living in poverty in the UK."The report says the UK has had some success in reducing child poverty to date, but warns that this has been linked to the previous labor government's policies of increasing household income.The previous government achieved significant reductions in child poverty by providing tax credits to families, cash transfers and accessible public services.  However, the UK now has a higher rate of child deprivation than all of Scandinavia, the Netherlands and Iceland. The report also warns that in an economic downturn the first thing to happen is that children are no longer the focus of policy agenda.David Bull, the chief executive of UNICEF UK said "government policies to tackle the deficit must not harm children. There is only one chance at childhood – we cannot see a generation growing up in austerity denied the chance to fulfill their potential." The deputy Prime Minster Nick Clegg will attempt to answer the government's critics by his announcement that almost 1000 two-year olds from the most disadvantaged families who were due to start receiving free nursery education from September next year will now receive it in September this year.A spokesmen for the Department of education said "We are pleased that UNICEF's conclusions affirm the investment this government is making."But Labor claimed there is a £9 billion black hole in the welfare budget due increased spending on job-seekers allowance and housing benefit.However, a separate report by the think tank the Center for Social justice, disputes the success of this and past governments on tackling child poverty.  Christian Guy from the Center for Social Justice said "We have to redefine what we mean by poverty and tackle the root causes of poverty and not the symptoms."He pointed out that in real terms the UK is behind Slovakia and Estonia in terms of child poverty and that statistics tell us little about this complex issue.  He added that the breakdown in family life, which has mushroomed in the UK in the past generation, is more to blame for child deprivation and that single parents were often worse off financially.
You can share this story on social media: