Frontier failure: Striking UK border workers to 'hold country ransom' on eve of Olympics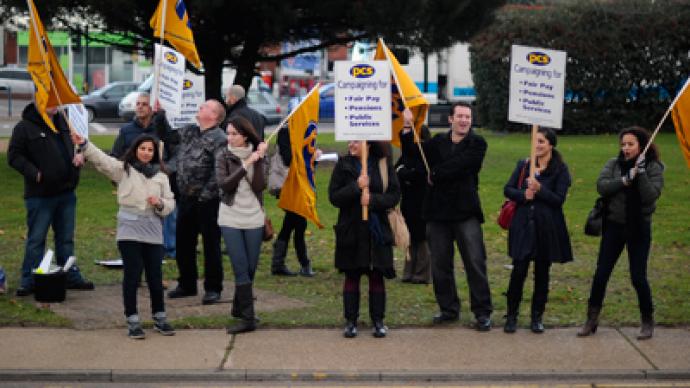 UK border staff are planning a 24-hour walkout on the eve of the Olympics – a move that threatens to cause traffic chaos during what is expected to become the busiest day in the history of Heathrow airport.
­Around 5,500 workers are going to walk out over job and pay cuts, disrupting around 130,000 passengers arriving for the Games opening. The workers have also refused to work overtime during the international event.

Theresa May, the UK Home Secretary, has already called the move "shameful", accusing the Union of sabotaging the Games, while Conservative MPs said the border workers were "holding the country ransom."
British authorities have put 1,200 security forces on standby in case of staff shortages.
The Border Force is also hoping that "hit squads" of up to 500 extra immigration officials from other parts of Whitehall will help to cover the extra demand, but it remains unclear how many of them are also union members.
The union officials say they'll stage the strike despite only a tenth of the Public and Commercial Services Union supporting it and less than half of the organization having voted.
The government is now reportedly considering legislation that is set to stop unions from striking unless 50 per cent of their members vote.
Just days ago, the US pledged to send their Transport Security Authorities' contingent to help the UK out, ramping up the protection.
TSA staff are to arrive at UK airports a week before the Games and stay a week after, according to an agreement between UK's Department of Transport and the US Transportation Security Administration, Sky News reports.
The move comes as the British government is increasing the number of military troops assigned to the Olympics, bringing their total to 17,000.
A week ago, a no-fly zone was imposed over London, with Royal Air Force (RAF) authorized to use "lethal force", even against passenger jets, should they violate the city's air space.
These latest measures are amplifying the existing concerns over the soaring military presence at the Olympics. In contrast, Britain currently only has 9,500 troops on active duty in Afghanistan –7,500 thousand less than the number set for the civil sports event.
Total security will cost the UK's public purse around £1.5 billion ($2.3 billion).