First criminal barrister strike in history of England over legal aid cuts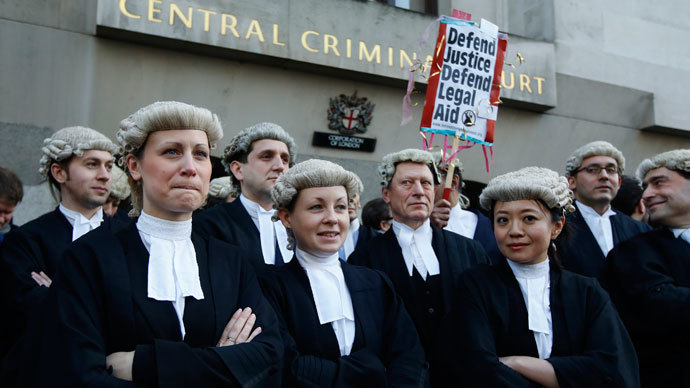 British trial lawyers nationwide undertook their first ever strike on Monday since the Criminal Bar's formation. The bewigged professionals walked out in protest of the UK Justice Secretary's plans to slice £220mn from the annual £2bn Legal Aid budget.
The strike was called by the Criminal Bar Association (CBA), which represents 4,000 lawyers. Officially, the protests had been organized at some 15 different courts. Hundreds of barristers wearing their traditional grey wigs and long black gowns engaged in noisy demonstrations outside courthouses instead.

"The protest on Monday is the first in the history of the criminal bar. That it is necessary in order to try and prevent the slide of the criminal justice system into chaos and the Criminal Bar into oblivion make it a sad day," said CBA Chairman Nigel Lithman QC prior to the protests.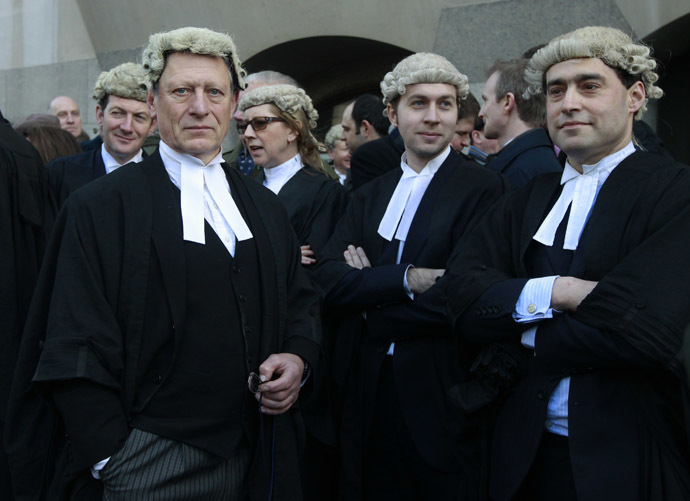 Outside London's Southwark Crown court, he addressed protesters: "The very future of our criminal justice system is in jeopardy by the imposition of savage cuts to funding," he stated.
NLQC chairman of the @TheCriminalBar addresses crowd outside Southwark CC pic.twitter.com/vksqm8XZOW

— The CBA (@TheCriminalBar) January 6, 2014
The strike only lasted a morning (3 'court hours'), but it marked the first time that barristers have ever withdrawn their labor since they first emerged as a separate, solid strain of the legal profession in the 15th century.

Protests also spanned the southwest, north, southeast and Wales.

"Legal aid provision, like the NHS is part of the welfare state," said barrister Ramin Pakrooh reading a statement outside Bristol Crown Court. "Our system of justice is the envy of the world but gradually over time it has become starved of resources. Those who practice in crime are treated with contempt by the Government," stated Peter Joyce QC, speaking to a crowd in Nottingham.
Save Legal Aid. Bradford Crown Court pic.twitter.com/7qyxp3VGxD

— abigail langford (@LangfordAbigail) January 6, 2014


Since 2010 the Ministry of Justice's budget has been cut by £1.3 billion, and further back - since 1997- there has been a 40 percent reduction in funding.

The Ministry of Justice, headed by Justice Secretary Chris Grayling, argues that over 1,000 barristers working on publically-funded legal aid cases earned £100,000 apiece last year, while there were six members of the profession who picked up over £500,000. "In the current economic climate, our legal aid bill is unsustainable," Grayling said in a letter addressed to the Guardian last October.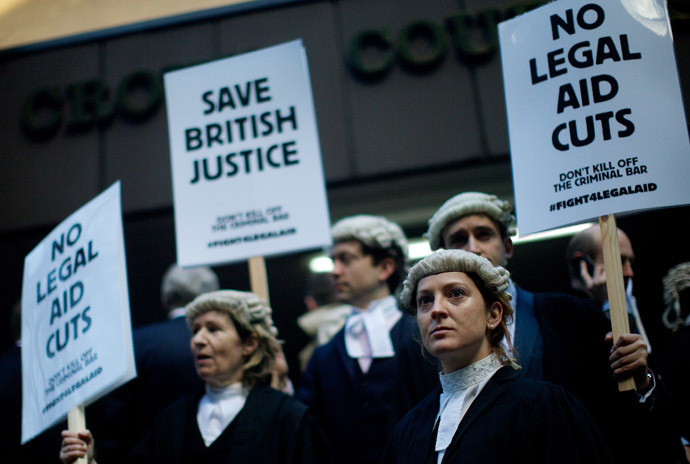 Lithman rebuts the high salary figures cited, stating that the average barrister generally earns somewhere in the region of £36,000 after taking VAT and other expenses into consideration.
You can share this story on social media: