Saudi Arabia and UAE to lend Egypt up to $8 billion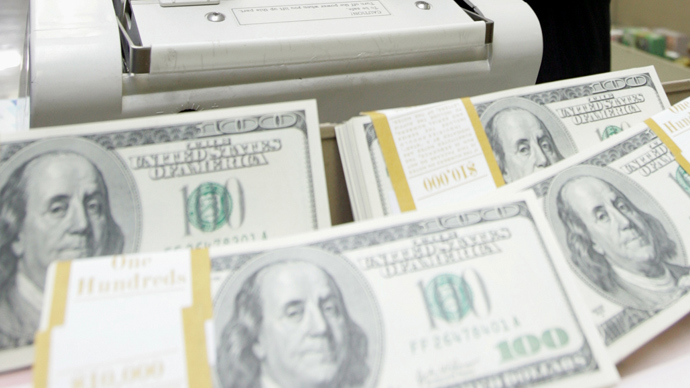 The United Arab Emirates and Saudi Arabia will give Egypt money in the wake of its political and economic crisis. The UAE will provide Cairo with $1 billion and lend it a further $2 billion, while Saudi Arabia will give Egypt a $5 billion aid package.
The UAE loan would be in the form of a $2 billion interest free deposit in Egypt's central bank, state news agency WAM reported on Tuesday. Abu Dhabi will also to give Egypt $1 billion.
The UAE delegation to Cairo included the Gulf country's national security adviser, foreign minister and energy minister. The visit was to "show full support to the people of Egypt - political support, economic support," Egyptian foreign ministry spokesman Badr Abdelatty told Reuters.
The UAE was one of the first countries to congratulate Egypt following the army's decision to oust the Muslim Brotherhood's Mohamed Morsi.
"The UAE stands by Egypt and its people at this stage and trusts the choices of its people. Egypt's security and stability are the basis of Arab security," WAM quoted UAE National Security Advisor Sheikh Hazza bin Zayad as saying. 
The UAE's foreign minister also stated that the Egyptian army proved that it was a "strong shield" and "protector," which guarantees that the country embraced all the components of the people.
Saudi Arabia also approved a $5 billion aid package to Egypt Tuesday, comprising of a $2 billion central bank deposit, $2 billion in energy products, and $1 billion in cash, Saudi finance minister Ibrahim Alassaf said.
US aid doubt
Meanwhile, Washington has said that there will be no immediate cut off of US aid to Egypt, although the $700 million allocated for 2013 has not yet been disbursed and aid for 2014 has not been discussed.
The White House has refused to label Morsi's ouster as an army coup, which distances the Obama administration from the Muslim Brotherhood's former leadership.
The White House is calling Egypt's plan to hold elections early next year "a positive sign." White House Press Secretary Jay Carney said that the White House is "cautiously encouraged" by the announcement of a plan to return to a democratically elected government. He called for all parties to be included in the electoral process.
Under a 1980's law, the US would be forced to cut off the $1.55 billion it sends to Egypt annually if Morsi's ousting was deemed to be a coup. If this were to happen, Washington would largely lose its ability to shape events in Egypt, which it regards as an important ally in the region.
The Obama administration has voiced general support for a swift return to democratic rule, although many officials acknowledge that Washington had lost patience with Morsi's government.
Although Washington has promised there will be no immediate cut off of financial aid to Egypt, Senator John McCain believes the US government should, in fact, suspend its aid to Cairo.
"It is difficult for me to conclude that what happened in Egypt was anything other than a coup in which the military played a decisive role. I do not want to suspend our critical assistance to Egypt, but I believe that it is the right thing to do at this time," McCain said in statement.
The State Department called on the Egyptian army to exercise "maximum restraint" in dealing with protests, after Monday clashes left 51 people dead.
A crumbling economy
But despite the promised aid, economists have warned that it will only be of short term value unless Egypt uses it to help overhaul its deteriorating finances.
Egypt has struggled to pay for imports since the 2011 uprising which ousted Hosni Murbarak. The uprising against the former president drove away tourists and foreign investors – two of its main sources of foreign currency. 
The country's budget deficit has also widened considerably in the last few months, prompting Morsi's government to increase its direct borrowing from the central bank.
In the first five months of 2013, the deficit reached 113.4 billion Egyptian pounds ($16.2 billion). That figure, which amounts to 15 per cent of gross domestic product (GDP), is nearly double the 2012 figure.
Since Mubarak was overthrown, successive governments have tried to finance the deficit by selling treasury bills and bonds to local banks, but the banks are no longer able to take on new debt. 
Saudi-backed coup – expert
Multi-billion-dollar aid from Saudi Arabia and the UAE is another sign that these two countries had a hand in the military coup which took place in Egypt, believes RT's contributing analyst in London, Afshin Rattansi.  

"We now realize it is much more a Saudi-backed military coup. And as for this General al-Sisi person, who is a former military attaché in Saudi Arabia, he is Saudi's man…  Saudi Arabia, they've taken over the largest country in the Arab world," Rattansi said.

He also described the current interim leaders of Egypt – President Mansour and Prime Minister Beblawi, as "puppets of Saudi Arabia", who will be ousted at once if they attempt to criticize Saudi Arabia or the UAE.

Commenting on the US role in the situation in Egypt, Rattansi said that "President Obama… is just dragging his heels over – he doesn't want to use the word 'coup' because he doesn't want to stop being able to subsidize the Egyptian military to the tune of so many hundreds of thousands of dollars."

You can share this story on social media: