Egypt's 'full military coup:' How it happened
Egyptian president Mohamed Morsi was ousted in a military coup Wednesday, with security forces forbidding him from leaving the country, arresting a number of top Muslim Brotherhood officials, and raiding media outlets in the midst of broadcasts.
 Follow RT's LATEST UPDATES 

Saad El-Katani, the head of the Muslim Brotherhood's Foreign Justice Party (FJP), and Rashad al-Bayoumi, one of the FJP's deputy leaders, were both detained, security forces told Reuters. Arrest warrants were also issued for 300 members of the Brotherhood and security forces were preparing to disperse pro-Morsi demonstrations throughout the country. 

A Muslim brotherhood spokesman said Morsi and Essam El-Haddad, a presidential aide, were being held at a residence used by the country's presidential guards.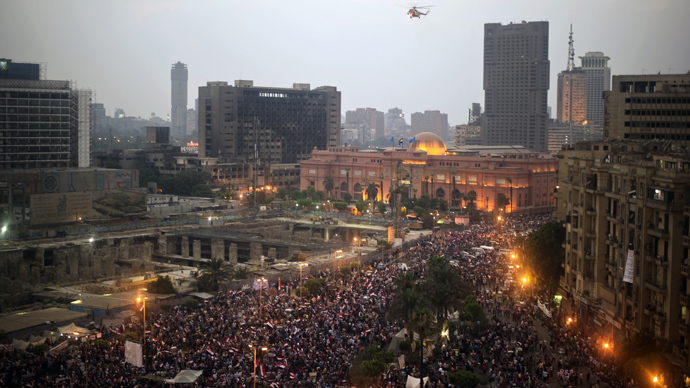 "The Egyptian Armed Forces first declared, is still declaring and will always declare that it stands distant from political forces. The Armed Forces, based on its insightfulness, has been called by the Egyptian people for help, not to hold the reins of power, yet to discharge its civil responsibility and answer demands of responsibility," said General Abdul Fatah Khalil al-Sisi, the head of the EAF, in a statement announcing the military's decision to end Morsi's presidency. 
"Suspending the constitution provisionally; the chief justice of the constitutional court will declare the early presidential elections; Interim period until president is elected. Chief Justice will have presidential powers; A technocrat, capable national government will be formed; The committee will offer all its expertise to review the new constitution; the Supreme Constitutional Law will address the draft law and prepare for parliamentary elections," he went on, as translated by Al Jazeera. 
In that connection, Egypt's top generals told US Defense Secretary Chuck Hagel and Chairman of the Joint Chiefs of Staff General Martin Dempsey by phone Thursday that the country would soon be back under civilian control.   
National security adviser Essam El-Haddad said that "no military coup can succeed in the face of sizeable popular force without considerable bloodshed." He admitted that the army and police may use violence to clear the streets of Cairo.
Through his official Twitter page, Morsi advised all Egyptians prior to his detention to resist the coup peacefully and without violence.
At least five staff members of Al Jazeera's Egyptian broadcast team were detained and prevented from broadcasting images of a pro-Morsi rally near Cairo University. Shadi Hamid, an Egypt analyst with the Brookings Institution, said that staff of Brotherhood-associated Misr 25 were arrested as well.
Egyptian troops, including commandos, were deployed to key sites and intersections throughout Egypt, including Suez and the highway to Alexandria. Hundreds of soldiers took part in a military parade near the presidential palace, according to Reuters. 
MENA, Egypt's state news agency, reported police were continuing their efforts to arrest "a number of members of the Muslim Brotherhood who are accused of inciting violence and disturbing general security and peace."
US President Barack Obama, while being careful to avoid saying "military coup" in his address, called on security forces to "avoid any arbitrary arrests of President Morsi and his supporters."
Military vehicles heading in direction of pro Morsi rally pic.twitter.com/74n7NBWlpc

— Kareem Fahim (@kfahim) July 3, 2013
Morsi refused to step down, proposed unity govt

Morsi previously offered a consensus government as a way out of the country's crisis, but refused to offer any meaningful compromises. 

A proposed coalition government would have included a Prime Minister elected by political powers, according to a presidential statement. The statement added that "the scenario that some parties are trying to impose is rejected by the people." 
Crowds cheer as army copter flies over prez palace protesters who are already celebrating:they believe they've won pic.twitter.com/ut9gip1Yek

— Bel Trew - بل ترو (@Beltrew) July 3, 2013
The military ultimatum given to President Mohamed Morsi came and went with hundreds of thousands of people taking to the streets. Morsi previously rejected the deadline, which gave him 48 hours to meet the demands of the people before facing army intervention. 
Just before the afternoon deadline imposed by the military expired, Morsi again rejected army intervention. The leader said that abiding by his electoral legitimacy was the only way to prevent violence. He criticized the military for "taking only one side."
"One mistake that cannot be accepted, and I say this as president of all Egyptians, is to take sides," Morsi said in a  statement issued by his office. "Justice dictates that the voice of the masses from all squares should be heard."

A meeting between Commander-In-Chief of the Egyptian Armed Forces, Abdul Fatah Khalil Al-Sisi, and political forces was held, Al Arabiya reported. The most important issue discussed was reportedly that of sending reassuring messages to the Brotherhood's leaders. 
Protesters on #tahrir are chanting "People and police are one hand" #egypt #egyptianrevolution2013

— PaulaSlier_RT (@PaulaSlier_RT) July 3, 2013
The Brotherhood said the army's actions amounted to a coup and warned that its members were ready to become martyrs to defend the president.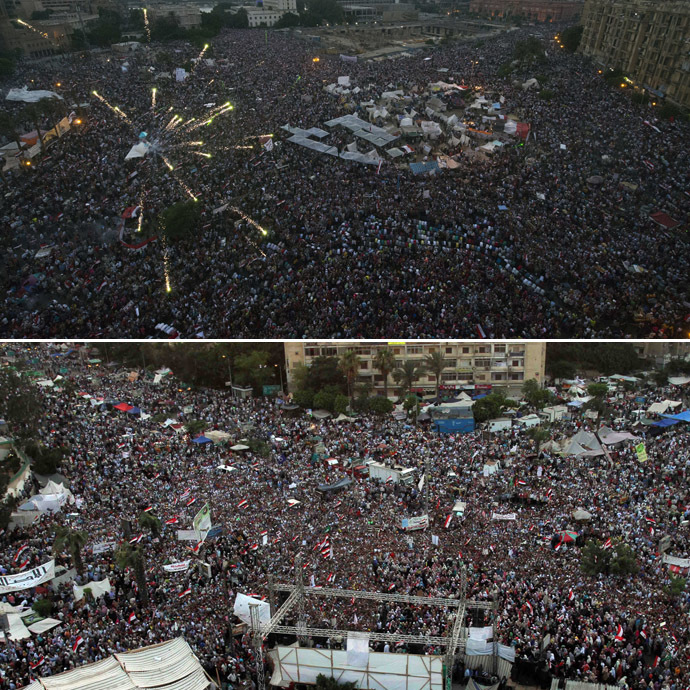 "There is only one thing we can do: we will stand in between the tanks and the president," Gehad El-Haddad, the MB official spokesman, told Reuters on Wednesday before Morsi was put under house arrest.

"We will not allow the will of the Egyptian people to be bullied again by the military machine." 

Egypt's army are discussing a new government with the prime minister until the next period of elections #egypt #egyptianrevolution2013

— PaulaSlier_RT (@PaulaSlier_RT) July 3, 2013
You can share this story on social media: