Twitter trending topics besieged by Russian rain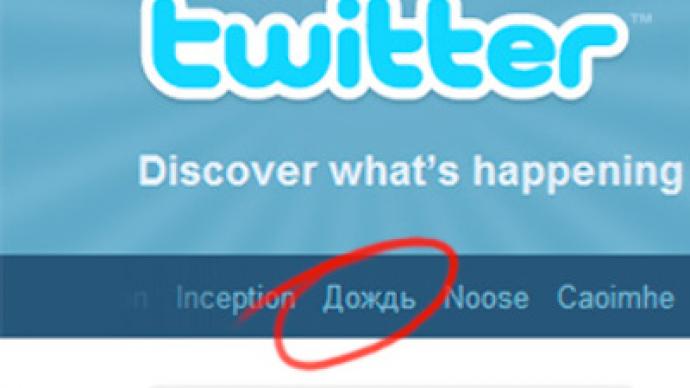 Russian Twitter users, exhausted by the scorching heat, launched a flash mob and managed to promote the word "rain" into the trending topics of the microblogging service, causing excitement, puzzlement and even fear.
RIA Novosti news agency, which posted the news on its wire, suggested that the word "rain" in Russian became very popular on Tuesday afternoon due to the fact that a short shower poured in South-West Moscow at that time after several weeks of extreme heat with no precipitation.
However, a brief look on the trend shows that people were posting the word repeatedly, trying to affect Twitter's engine and bring the word into the top ten trending topics purely for the sake of fun. Internet users call such behavior "flash mobs".
The flash mobbers' efforts were quickly rewarded as Twitter users who do not speak Russian started making suggestions what the word could possibly mean. One of the guesses was that the word was the name for a new Russian nuclear bomb. However, the majority of Twitter users learned the correct meaning of the word by using web-based translator services, RIA Novosti reports.
The weather in the Russian capital is breaking heat records for the third week on end. The temperature is over 30 degrees Celsius during daytime and over 20 degrees at night. Moscow hospitals have put off all non-urgent surgical operations due to weather conditions. Dozens of people have died daily of heat-related health conditions, not to mention from drowning while trying to cool down in lakes and rivers.
You can share this story on social media: