Twitter sticks together with OWS protesters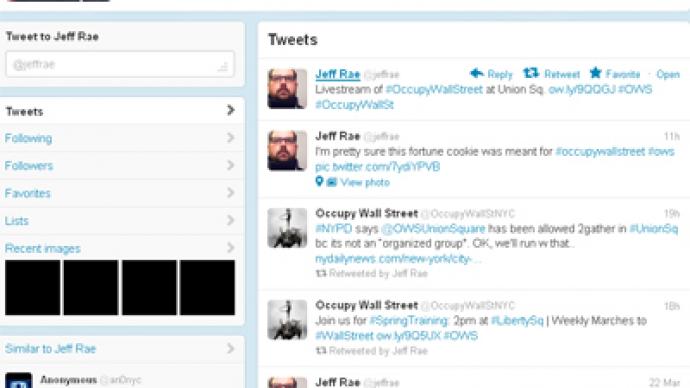 Twitter Inc. refuses to give out information on Jeffrey Rae, a prominent OWS protester whose on-the-ground Twitter reporting is followed by thousands. Activists under police scrutiny say a political witch hunt has begun on behalf of "the 1 per cent".
The microblogging service Twitter says it will not comply with the request two weeks ago by the New York District Attorney to hand over data about an Occupy Wall Street protester. Jeffrey Rae was among more than 700 activists arrested during a Brooklyn Bridge march in New York on October 1 last year.Bloggers now say it is the beginning of authorities' digging into the social media black hole, as Rae is now part of a chain of similar privacy requests.And the protesters who believed Twitter was a secure way to communicate during demonstrations may have another thing coming.Jeff Rae describes himself on Twitter as a "rabble rouser, agitator, organizer, labor activist." On October 1, 2011, Rae received two charges of disorderly conduct and one charge of "Horse/unauthorized Riding/ltd Use Vehicle." After the arrest he tweeted that he was charged with "failure to obey order, prohibited use of roadway, and blocking traffic."That is what the NYPD calls a "disobedient civilian".Two weeks ago the New York District Attorney's sent a subpoena to Twitter, seeking information about the account belonging to Jeffrey Rae. Rae himself received an email, which included a copy of a subpoena from the DA requesting data from his account."You are commanded to appear before the criminal court of the County of New York as a witness in a criminal action prosecuted by the People of the State of New York against Jeffery Rae," the subpoena reads.It also says the activist must "produce" in court all tweets that came from his account, @jeffrae, from September 15 to October 31 of last year, "as a witness in a criminal action."
Legal gray area emerges in social media privacy
Now the OWS protesters are sure authorities want to use social media data as evidence against them to stop the movement against "corporate greed"."My tweets were being called to testify against their creator because on October 1 of last year I was one of more than 700 people arrested on the Brooklyn Bridge as part of an Occupy Wall Street action," says Malcolm Harris, who received a similar subpoena few weeks ago.It became clear the police are seeking information about activists, including their names, addresses, records of session times, the length of those sessions, which devices they used to access their Twitter account and any IP addresses from which they connected. However, Twitter has decided to resist. They are possibly attempting to calm their users after an outrage caused by a multibillion deal between the service and a UK-based firm, DataSift, which has bought millions of archive tweets and got free access to personal data. Twitter's legal department then informed the DA's office that they would not comply with the request until the motion was resolved, according to Paul Mills, the attorney representing Rae.
Long arm of law on a hunt to grab privacy
Cause for concern, it would seem, is how the United States is allowing law enforcement to question how its citizens engage in legitimate, democratic and constitutionally-allowed demonstrations. "Dangers of terrorism" has become a usual pretext to interfere into citizens' privacy, outraging both digital privacy advocates and civil libertarians. In 2003, citing those "dangers", a US federal judge granted expanded surveillance powers to the New York police, who had previously faced restrictions in monitoring political groups. During the US investigation of WikiLeaks, requests for data from companies like Google and Twitter have been also made. Twitter and Facebook are constantly and thoroughly monitored. The recent notorious case of British tourists who were imprisoned and deported from the US for Twitter jokes about digging up the body of famed Hollywood starlet Marilyn Monroe, might seem funny to some. But the prison terms in the UK for people accused of rioting in London last August based on their Facebook posts remind us of the danger approaching. US activists rage at the authorities not only because of privacy harassment. As the US is the first nation to criticize other countries for what it calls freedom oppression, it acts tougher and tougher at home. "It's interesting that in places like Egypt our leaders applaud people for using Twitter and social media for their movements. Here, I'm being subpoenaed for using social media," Jeffrey Rae says.
You can share this story on social media: