Click to kick trolls out: New anti-abuse button introduced on Twitter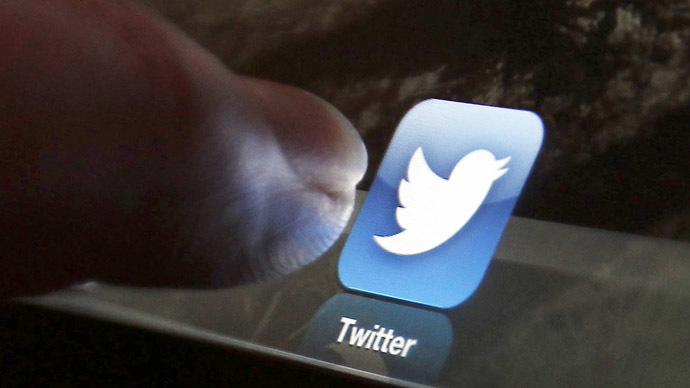 Twitter has announced new rules, including an in-tweet button to report abuse instantly, following massive troll attacks targeting female British journalists and activists, who successfully campaigned for placing a woman's image on a British banknote.
Twitter announced in its blog on Saturday that it is introducing new rules to combat online trolling.  The major innovation is a one-click "report abuse" button, which will appear gradually on all Twitter versions for different mobile devices, as well as on the social network's website.

"We introduced an in-Tweet report button in the latest version of the iOS Twitter app and on the mobile web. Rather than going to our Help Centre to file an abuse report, users can report abusive behavior directly from a Tweet. Starting next month, this button will also be available in our Android app and on Twitter.com," the company's statement reads.

Twitter promises to have more of its people engaged in processing the reports. This anti-online-harassment team would among other things be tasked with fighting "targeted abuse", such as sending messages from multiple accounts, creating accounts for troll activity only, and sending out threats.  

The measures have been introduced following a UK troll attacks scandal. Five female activists who successfully campaigned for having Jane Austen's face on a 10 pound banknote were inundated with bomb and rape threats on Twitter.

This created a stir within the country's internet community, which condemned the company for its lack of response. An online petition on Change.org to introduce a "report abuse" button has gathered more than 126,000 signatures.

Twitter yielded to pressure with the company's British chief apologizing, in his own micro blog, to women targeted by online attacks.

I personally apologize to the women who have experienced abuse on Twitter and for what they have gone through.

— Tony Wang (@TonyW) August 3, 2013
The new button has not started functioning on all devices yet, and so not everyone has been appeased by the Twitter announcement and apologies. British classicist and TV presenter, Mary Beard, has complained that new threats keep coming in to her account despite Twitter promises to curb abuse.

Planned to be off twitter, but I've had more threats this morning (rape and worse). It IS still going on. Tried to report to Twitter, failed

— mary beard (@wmarybeard) August 4, 2013
Some internet users in the UK planned to boycott Twitter on Sunday over the company's inability to tackle abuse.  The timing for the new policy announcement is believed by some to be influenced by plans to have an online protest.  

Although inspired by a UK incident, the new Twitter rules will apply globally.

You can share this story on social media: