Tweet delete: Russian MP 'Snowden to Venezuela' post adds to confusion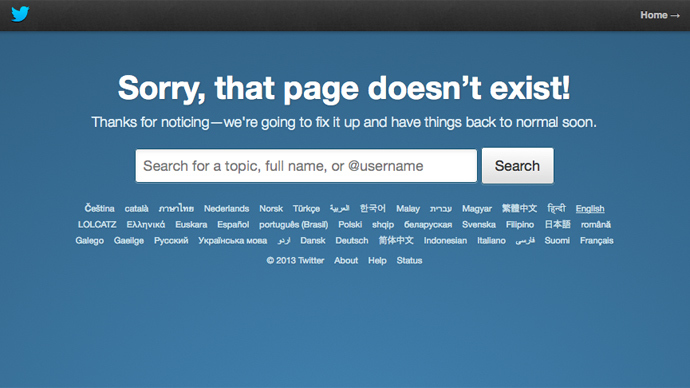 A Twitter post made by a senior Russian lawmaker caused a stir in the media on Tuesday. The post stated that NSA leaker Edward Snowden had chosen to accept Venezuela's offer for political asylum.
Aleksey Pushkov, head of the foreign affairs committee of Russia's lower house of parliament, tweeted: "Predictably, Snowden has agreed to [Venezuelan President Nicolas] Maduro's offer of political asylum. Apparently, this option appeared most reliable to Snowden."

The post immediately made international headlines, with many news agencies assuming that Pushkov had insider information regarding Snowden's next move. While media outlets were reporting on Pushkov's tweet, the #Snowden hashtag began trending on the social media site.
However, Pushkov deleted the post just minutes later, explaining that he received the news from a Russian TV channel. 
"Information about Snowden accepting Maduro's offer of asylum comes from the Vesti 24 newscast at 18:00. Contact them for all questions," the MP tweeted.
Информация, что Сноуден принял предложение об убежище от Мадуро пришла из 18-часового выпуска "Вести 24". По всем вопросам обращаться к ним — Алексей Пушков (@Alexey_Pushkov) July 9, 2013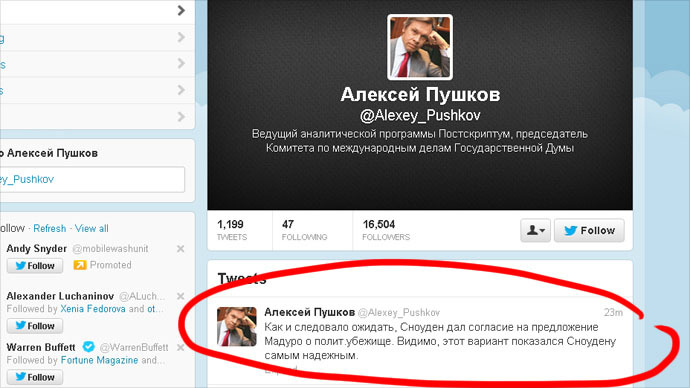 In a statement on its website, the news channel said that while it reported that Maduro confirmed Venezuela's receipt of an official asylum request from Snowden, it had not reported that "the scandalous former CIA agent decided to go to Venezuela."
The media frenzy calmed down shortly after Pushkov's tweet was confirmed to be a false alarm.

Edward Snowden, who is believed to be inside Moscow's Sheremetyevo Airport, is wanted in the US on charges of espionage after leaking the NSA's secret surveillance programs. He first fled his homeland for Hong Kong, and arrived in Russia on June 23. The whistleblower has been stuck in the airport's transit zone ever since, filing asylum applications to various countries.
So far, three countries have offered to open their door to the whistleblower.
Maduro said earlier that Venezuela would provide Snowden with a safe haven from "persecution from the empire" and that the US fugitive "will need to decide when he will fly here."
Nicaraguan President Daniel Ortega noted that his country would also receive the NSA leaker "if circumstances permit."
Bolivian President Evo Morales vowed that he would grant Snowden shelter if he made the request. "If there were a request, of course we would be willing to debate and consider the idea," he told RT Spanish last week.
All in all, the 30-year-old whistleblower has applied for asylum in over 20 countries around the globe. However, many nations have so far declined to provide any political or legal protection to the NSA leaker.
You can share this story on social media: