'Turkey violated Convention on International Civil Aviation' – airline chief to RT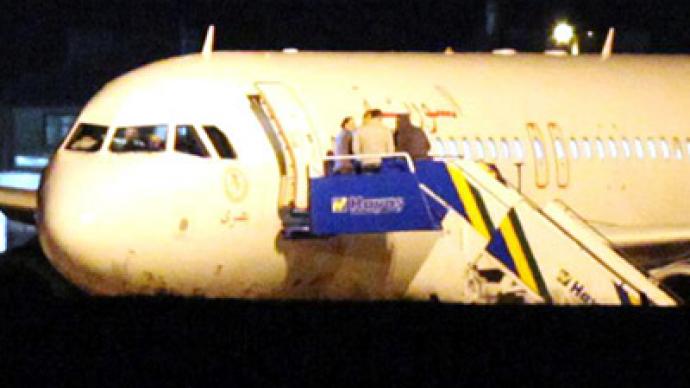 The passengers of the plane forced by Turkish jets to land in Ankara spent over five hours inside the aircraft while its cargo compartment was searched in a breach of international regulations, Syrian Air director told RT.
"After crossing into Turkish airspace, our plane was forced by Turkish Air Force F-16 jets to land in Ankara," Ghaida Abd Al-Latif told RT. After landing, the plane was subjected to a search of its cargo compartment. "The crew and the passengers have been on board for five hours and 25 minutes," she said. "Everyone is fine, but it was a stressing experience for them. Everyone on board is waiting for a check. This situation violates humanitarian norms. There is no cargo on the plane other than passengers' personal possessions and luggage."RT: Do you think Turkey violated international regulations for civil aviation?GL: Certainly the Convention on International Civil Aviation was violated. The crew members are assisting the passengers onboard, trying to comfort them, to overcome the stress. That's the most important thing for us now. We are in constant contact with the captain of the plane. What we know about the situation on board comes from him. We are supporting him and the crew morally.The passengers were offered food and drinks. Crew members are helping the passengers. Many of whom are old people, children and women. There are Syrian and Russian citizens among them. We contacted the captain via mobile phone.RT: What are you doing in response to the events? What your reaction will be?GL: We shall file a complaint with the International Civil Aviation Organization, with the Arab Civil Aviation Commission, with all the international humanitarian organizations, objecting to the inhuman measures taken against the passengers and our plane.Turkey sends three flights [daily] to Syria, to Damascus and Aleppo, and never did the Syrian aviation authorities in any way abuse them.RT: Turkey has cut its air traffic with Syria starting today.GL: This will only hurt the Turkish side. We did not receive any preliminary request to detail the cargo onboard the plane; we were forced to land by military fighters. If we received such a request, we would have replied to it. There were only civilians and their luggage on board. Searching them is possible only if all the rules are observed, and not in this inhumane manner, when all the passengers and crew members are held onboard the aircraft for such a long time.
You can share this story on social media: