Turkey retaliates at Syria for sixth consecutive day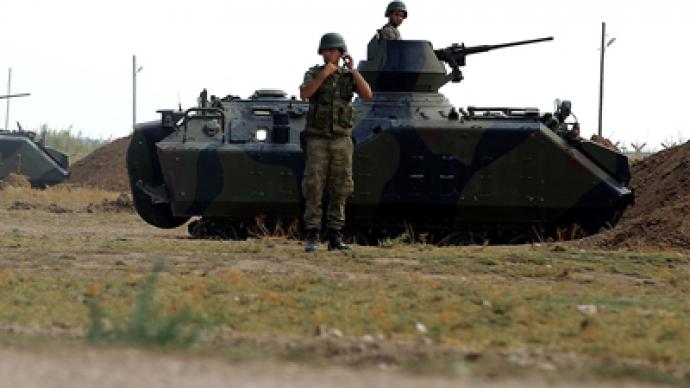 Turkey has returned fire after mortar from Syria landed in Turkey's Hatay province, Reuters reports. It's the sixth day of retaliation, as Syrian fighting continues to spill across the border.
The round from Syria landed 150-200 meters within Turkey's border in the district of Hacipasa, according to a local official."The worst-case scenarios are taking place right now in Syria … Our government is in constant consultation with the Turkish military. Whatever is needed is being done immediately as you see, and it will continue to be done," Turkish President Abdullah Gul said in a statement on Monday. The retaliatory fire comes just two days after Turkish Foreign Minister Ahmet Davutoglu warned that the country would respond forcefully to every Syrian shell that lands on Turkish soil.Turkish soldiers were deployed along the border near Akcakale earlier on Monday.Some residents in the town have abandoned their homes and students have been asked to stay home. UN Secretary General Ban Ki-moon has warned of the consequences that the Syria-Turkey conflict could bring to the region. "The escalation of the conflict along the Syrian-Turkish border and the impact of the crisis on Lebanon are extremely dangerous," Ban said at the opening of the World Forum for Democracy in Strasbourg, France.Just yesterday, a mortar from Syria hit near a plant belonging to the Turkish Grain board, several hundred meters from the center of Akcakale.A short time later, at least six mortars could be heard fired from Turkey. The mayor of the town, Abdulhakim Ayhan, confirmed that Turkish artillery immediately had returned fire.No casualties resulted from Sunday's exchange.The crisis between the two countries began on Wednesday, when Syrian mortar shells killed a woman and four children from the same family in Akcakale. The shells also wounded at least 13 people. The incident prompted artillery strikes from neighboring Turkey. The recent exchanges of fire have stoked fears that Syria's conflict will escalate into regional instability.
You can share this story on social media: