Turkey blocks Google service used to sidestep Twitter ban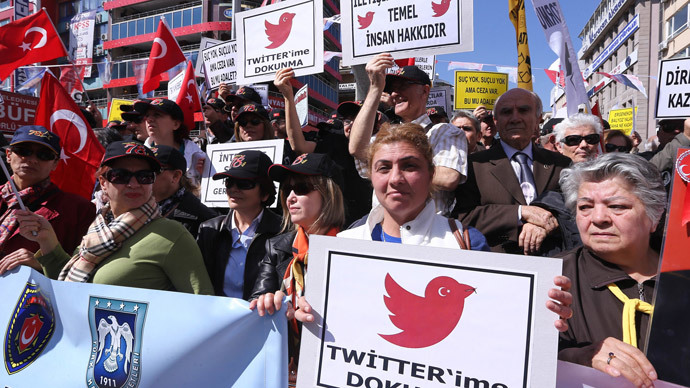 Turkish authorities have blocked the Google DNS service used by the local Twitter community to get around the ban on the social network. The number of tweets, however, jumped 138 percent.
#OccupyTwitterpic.twitter.com/jKu6T2kF5o

— ece (@ecezereycan) March 21, 2014
The measure has come as Erdogan starts a final electoral push to stifle rivals who he has described as an "alliance of evil."
After the ban imposed on Twitter late on Thursday, with Erdogan's vow to "wipe out" the messaging service, the Turks began using Google's DNS service to access the social network. The users typed 8.8.8.8 and 8.8.4.4 into their network settings to bypass the ban. Also, these numbers appeared in graffiti on the walls of some houses.
The Domain Name System (DNS) is a hierarchical distributed naming system for computers, services, or any resource connected to the internet or a private network. Apart from bypassing blocking, it can be used for faster internet surfing speeds.
Erdogan has shut down the twitter airwaves in Turkey. #twitterisblockedinturkey#OccupyTwitter #TurkeyBlockedTwitterpic.twitter.com/1KQxeBk56y

— Erman (@erokur) March 21, 2014
The authorities said that Twitter had been banned for a reason, though, saying there are "hundreds of court rulings in Turkey" over Twitter content.
"Twitter has been used as a means to carry out systematic character assassinations by circulating illegally acquired recordings, fake and fabricated records of wiretapping," Erdogan's office of public diplomacy said on Saturday.
Erdogan's Way or the Highway.. #TwitterisblockedinTurkey#OccupyTwitter #ErdoganBlocksTwitter ..Occupy Twitter pic.twitter.com/glm8A8KyMI

— Alarma (@AlarmaQQStar) March 21, 2014
Also, the social network was "biased," they stressed.
Twitter was blocked ahead of the March-30 local elections for the campaigning period.
And the muscular Twitter bird. Caption says "I don't recognize the Twitter ban." #direntwitter~=#occupytwitter. pic.twitter.com/ypNDmk0nRf

— Zeynep Tufekci (@zeynep) March 21, 2014
However, President Abdullah Gul has said that the presidency is in talks with Twitter to reach a speedy resolution to the block on the website in Turkey, Hurriyet Daily News reported.
"It is not legally possible to shut down the internet and platforms [like Twitter]" he told reporters in Ankara. "This is of course an unpleasant situation for such a developed country as Turkey, which has weight in the region and which is negotiating with the European Union. Therefore, it will be overcome soon."
The president said that he had instructed his staff to contact Twitter to put an end "to this bitter situation."
#occupytwitter #twitterisblockedinturkey#dictateur #ErdoganBlocksTwitter#humanrights#Turkey#erdogan#Turquiepic.twitter.com/nBPORIkxvT

— FrenchSultan (@french_sultan) March 22, 2014
Whoa: 1.2 million tweets sent in Turkey, despite ban http://t.co/FHH7iwibqk#OccupyTwitter#direntwitterpic.twitter.com/opvuEeEh7f

— Mashable (@mashable) March 21, 2014

Earlier, Twitter officials expressed hope that full access to the website will be restored shortly, after a lawyer representing the platform met with Turkish authorities in the capital Ankara on March 21, local media reported.
You can share this story on social media: