Turkey retaliates at Syria for a fifth day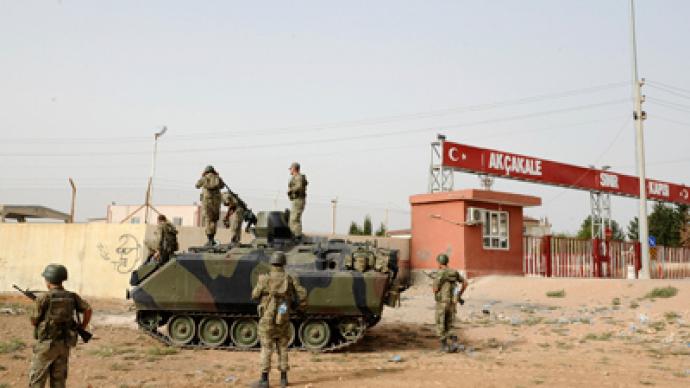 Turkey has returned artillery fire at Syria for a fifth consecutive day, after mortar from Syria landed in the Turkish border town of Akcakale.
The shell landed some 200 meters inside Turkey, AP reported. According to Reuters, it hit near a plant belonging to the Turkish Grain board, several hundred meters away from the city center.A short time later, at least six mortars could be heard fired from Turkey. Abdulhakim Ayhan, the mayor of Akcakale, confirmed that Turkish artillery immediately returned fire.No casualties have been reported.Turkish forces also returned fire after another mortar bomb hit a non-residential area in the Hatay province some two hundreds meters away from the Syrian border, Reuters reported quoting local officials. The bomb, believed to have been launched by Syrian government troops, did not result in casualties in the district of Altinozu.These are the latest moves in the already tense relationship between the neighboring countries. The crisis began on Wednesday, when Syrian mortar shells killed a woman and four children from the same family in Akcakale. The shells also wounded at least 13 people. The incident triggered artillery strikes by neighboring Turkey. Ankara has deployed additional troops to its southern border with Syria. "Many critics believe these shells are being fired deliberately. This border area is controlled by rebels and it is possible that theyre firing these rounds to provoke turkey to go to NATO and call for foreign intervention," RT correspondent in the region Paula Slier said.Meanwhile, Turkey's prime minister says that he won't allow the events to go unprovoked and will declare war if necessary – leading to growing concern that the conflict will result in regional instability."You have to be ready at every moment to go to war if it is necessary. If you are not ready for this, you are not a state, if you are not ready for this, you are not a nation," said Recep Tayyip Erdogan. The PM reiterated that Turkey does not want war, but warned Syria not to test its resolve. "Nobody should attempt to test Turkey's decisiveness and sensibility," Erdogan stated in a speech on Sunday.
You can share this story on social media: