Turkey to consider further military action after shelling of Syria begins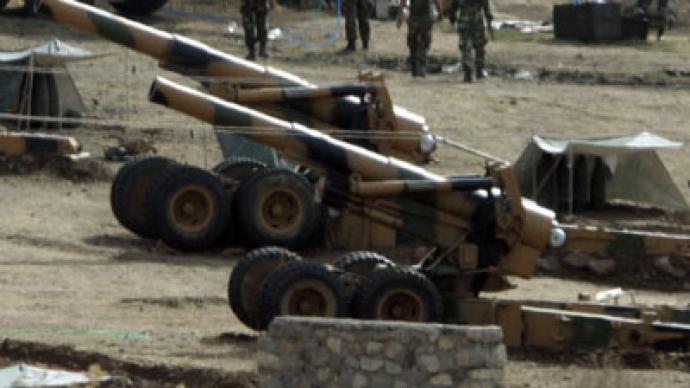 Turkey's military continues to shell Syria while the government awaits parliamentary approval for military operations on its neighbor's territory after five Turkish civilians were allegedly killed by casual fire from Syria.
Several Syrian soldiers have been killed in artillery shelling from Turkish territory on Thursday night, reports the London-based Syrian Observatory for Human RightsAnkara has confirmed it is firing on positions of the Syrian military. Artillery strikes have been made early on Thursday morning targeting the Tel Abyad district 10 km inside Syrian territory.Turkish authorities have written to the UN Security Council on Thursday about the alleged shelling of its territory from Syria.In a letter addressed to the United Nations Secretary-General Ban Ki-moon, Ankara classifies Syria's actions as "an act of aggression from Syria against Turkey" and has demanded measures be taken against Damascus to ensure the territorial integrity and security of Turkey.Russian Foreign Minister Sergey Lavrov has called on to Damascus to make a public promise not to allow any further armed conflicts on the Turkish border. Lavrov said that Syria and Turkey must establish a reliable communication channel to settle border conflicts.Sergey Lavrov also informed that Damascus has already contacted Moscow on the matter of the border incident on Turkish border and assured the mortar shelling was a "tragic casualty."Russian FM expressed regret that the UN Security Council seems not to notice terrorist acts in Syria."I cannot but remember the deplorable fact that our Western partners in the UN refuse to condemn terror acts taking place on Syrian soil," Lavrov said.A source in NATO has revealed that at the current stage of the border conflict between alliance's member Turkey and Syria the organization does not intend to bring its article on collective defense into play.Spokesperson for the US State Department Victoria Nuland has called on to Russia to "use its influence on the Assad regime" and said Washington will continue co-operating with Moscow in search of a solution to the Syrian crisis, which the US understands as transition of authority from President Bashar al-Assad.The chief of EU foreign policy, Catherine Ashton, on Thursday condemned a mortar strike from Syria, but called on both sides to exercise restraint.Damascus has already offered its condolences to the Turkish people and said the incident is being investigated. The government of Bashar al-Assad proclaimed it respects the sovereignty of neighboring countries and urged "states and governments" to act wisely and rationally.The incident with alleged accidental mortar shelling is extremely untimely for the Syrian regime which has just managed to halt the trend towards further escalation of terrorist threat in the country. The latest reports from Syria suggest that the foreign-sponsored militants are suffering heavy losses as the regular army cleans up quarters in the cities and prevent mercenaries from intruding into Syria from neighboring countries, mostly from Turkey.The Turkish army has certain experience of operating on foreign territories. Over the last year it has launched a number of air and ground assaults in Northern Iraq against militants of the Kurdistan Workers Party (PKK) who found safe haven on territories de facto uncontrollable by the Iraqi government in Baghdad. Turkey has a law which provides for these attacks.Turkey's parliament is expected to decide on Thursday whether to allow the military operate on Syrian territory, as a law similar to the one regarding Iraqi Kurds may be adopted.Despite hawkish rhetoric, on Wednesday immediately after the mortar shelling incident in the Turkish town near the Syrian border, Turkish authorities are not absolutely sure they want to engage into a fully-fledged conflict with their southern neighbor.An aide for Turkish Prime Minister Tayyip Erdogan published a tweet on Thursday saying that "Turkey is not seeking war with Syria, though it prepares to defend its borders and is ready to repel an aggression.""Surely a war can be prevented and Turkey intends to continue with politic and diplomatic initiatives," assured Dr. Ibrahim Kalin.The concerns of the Turkish political establishment are quite understandable. Eliminating Kurdish militants armed with handguns in Iraq is one thing, while dealing with regular Syrian army, equipped with modern air-defenses, multiple-launch rocket systems, assault helicopters, tanks,  and up-to-date systems of radio-electronic warfare is an undertaking with unpredictable results and possible multiple casualties among Turkish servicemen.The idea of possible warfare with Syria has met with strong opposition from Turkish web activists. The "no to war" campaign they initiated in Twitter soon became an international trend.The hashtag "savasahayir" (no to war) quickly spread beyond Turkish borders into global social networks.Turkish police used teargas against a small group of about 30 anti-war protesters that made an attempt to approach the parliament building in the capital, Ankara, while the parliamentarians debate possible military action against Syria. The activists chanted "The Syrian people are our brothers!" and "We don't want war!"
'Turkey's Syria policy lacks support of its people'
Jeremy Salt, professor of Middle Eastern Studies at Bilkent University, said that there was "no proof" that government forces had fired the mortar across the Turkish border.He added that some were waiting for Turkey to act in retaliation to the attacks as they might stand to gain from the conflict."There are several countries that are anxious for Turkey to take these actions. Qatar is one, Saudi Arabia is another. So they'll be weighing up the costs and the benefits tomorrow," Professor Salt told RT.He concluded that given the "growing domestic opposition" to Turkey's current policy on Syria, any decision to create a no-fly zone would be "extremely unpopular" with the Turkish people.
Utku Cakirozer, Ankara Bureau chief of the Jumhuriet Turkish daily told RT that Turkey's position of backing the Syrian opposition "created a huge risk" for the country."I personally believe that the Turkish government's position has risked this sort of unfortunate events on the border," said Cakirozer.He added that the border attack was a "sad mistake of the Syrian army in their clashes with the opposition militia."Cakirozer believes that although the Turkish government was pushing for regime change in Damascus, they would not go so far as to intervene with military force.
Israel gets ready for further escalation in Syrian conflict
In the meantime Israel has reportedly evacuated hundreds of tourists from the occupied Golan Heights after several dozen armed militia approached the border controlled by the UN peacekeepers. The militants, taken for a group of Syrian rebels by the Israeli military, stopped a mere 500 meters from the border, which has been intensively fortified by the Israeli army's Corps of Engineers over the last two weeks.The Israeli military began constructing additional trenches, barbwire and minefields on the border with Syria after several mortar mines were fired on to Israeli territory from Syria a couple of weeks ago.The Chief of IDF General Staff Lt. Gen. Benny Gantz has stated that Syrian "President Bashar Assad is losing control of the country which, in the result, might become a huge military warehouse for terrorist organizations."