'Turkey should show evidence for their complaint'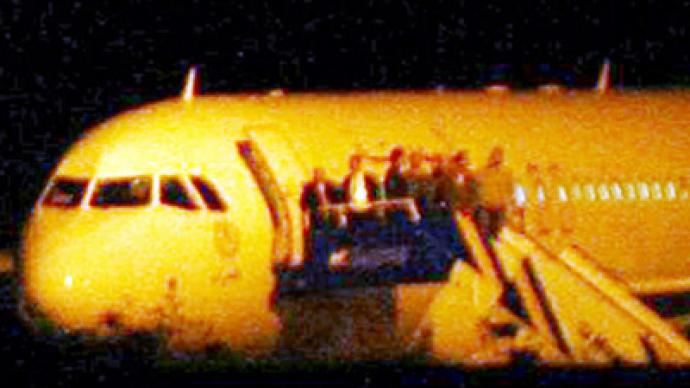 Syria has refuted as "absolutely untrue" Turkish allegations that a civilian plane headed for Damascus was carrying Russian-made munitions. Meanwhile, analysts doubt the Turks could have found anything compromising enough to back their claims.
Following claims by Turkish Prime Minister Recep Tayyip Erdogan that the Syrian commercial jet was carrying "munitions for the Syrian Defense Ministry," a Syrian Foreign Ministry spokesman said the plane was not carrying any ammunition, or any other illegal cargo, calling the allegations "absolutely untrue."Turkey now faces a serious public relations problem, Mark Almond, an Oxford historian and Visiting Professor of International Relations at Bilkent University in Turkey told RT, because whatever was found on the plane "was not something you could put in front of the world's media cameras and say – 'Look! Got ya!'""To paraphrase Cardinal Richelieu, show me contents of the cargo hold of any large airplane and I will find something in it to cause a diplomatic incident," Almond said. "And I think this is in a sense what the government in Turkey has done."In the meantime, the Turkish government is hostile to Assad and is openly supporting the Syrian rebels, Almond says. "It's allowing – even the BBC showed it earlier this week – large quantities of ammunition and rockets and anti-tank weapons, which of course badly affect civilians, to enter into Syria from Turkey."Even if it really were necessary to send military equipment to Syria, "it would have been done as required by law, not illegally, using a civilian jet," a top official in Russian's military export industry told Interfax on Thursday.Sending arms to Syria on a passenger airliner is "absurd," agrees author and journalist Afshin Rattansi, because "that is not the way it works."Syria "has quite a large army in the Middle East," Rattansi added. "It surprises me that the Syrian government doesn't have enough radios or equipment."A former US Foreign Service officer, George Kenney, agrees that the Turks should show some evidence to back their complaint."If the Turks have got something, they should show people what it is instead of just saying that they've got something," Kenney said. "I thought that the Russian argument was fairly sensible, since Russia and Syria have military agreements, if they were sending the equipment, they would send it on a regular military cargo plane."Russia's state-run arms exporter Rosoboronexport confirmed that it had no cargo on the Syrian Air Airbus A-320 flight departing from Moscow's Vnukovo Airport. The plane's operator stated that its plane was carrying only civilian electrical equipment, while Vnukovo's press service said nothing suspicious was found in the plane's cargo before the takeoff.
You can share this story on social media: