Turkey eavesdrops on almost 2,500 people, mostly foreigners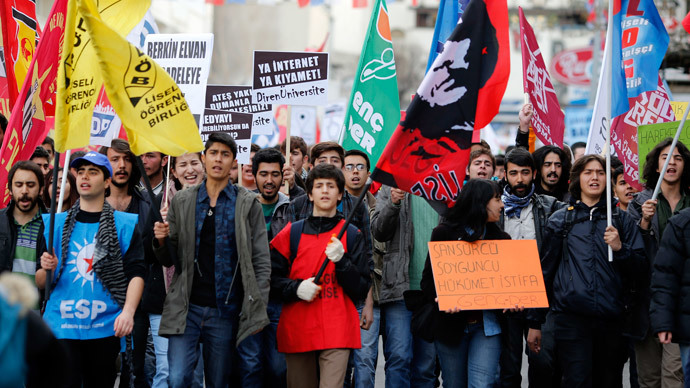 Turkey's deputy prime minister has revealed that the country's national spy agency is keeping tabs on almost 2,500 people, mostly foreigners. The news comes amid a parliamentary debate over expanding the bureau's espionage powers.
"As of today, National Intelligence Organization (MIT) eavesdrops on 2,473 people. More than half of them are foreigners," Deputy Prime Minister Besir Atalay said, as quoted by AFP.
Atalay said the eavesdropping is used to uncover suspected terrorists. Under current legislation, MIT must obtain a court order for each target it wants to spy on.
On Saturday, Turkey's parliament began to debate a new bill which would expand national espionage powers. The initiative strives to give more power to the spy agency, allowing it to bypass the courts when carrying out undercover operations and surveillance in Turkey and abroad.
If passed, the new law would give the MIT new powers to conduct operations abroad and eavesdrop on pay phones and international calls without first obtaining permission to do so. The bill also introduces jail terms of up to 12 years for the publication of leaked classified documents, Reuters reported.
As the debate began, the government withdrew one clause from the bill following harsh criticism from parliamentary lawmakers. The controversial clause involved making Turkish Prime Minister Recep Tayyip Erdogan the head of the MIT's intelligence coordination board.
The new bill was submitted by Erdogan on Wednesday, after parliament passed new laws tightening government control over the internet and the courts earlier this month.
"This bill will bring the MIT in line with the necessities of the era, grant it the capabilities of other intelligence agencies, and increase its methods and capacity for individual and technical intelligence," the draft document says.
Erdogan has faced fierce opposition to his attempts to expand the agency's reach.
"The prime minister is completely getting rid of the principle of accountability...The MIT is becoming his private organization. This is a transition from police state to intelligence state," member of parliament for the main opposition Republican People's Party (CHP), Engin Altay, told Reuters.
Erdogan equated whistleblowing to "treason" last December, when he slammed a Turkish daily for leaking state documents which included information on the government's profiling of citizens and surveillance of the activities of religious groups.
"I now see that some media groups are hand-in-hand," Erdogan said, as quoted by UPI. "Exposing state secrets is not freedom but absolutely treason to the country and homeland."
Erdogan was speaking in reference to the leaked documents that Taraf daily published in late November and early December 2013. He reminded that the Turkish constitution strictly prohibits whistleblowing, adding that no one has the right to leak state secrets.
The first leaked document published by Taraf was from Turkey's National Security Council (MGK). It detailed a secret plot against Hizmet, a movement founded by Islamic scholar Fethullah Gulen.
You can share this story on social media: