Turkish MPs brawl as Erdogan tightens grip on judiciary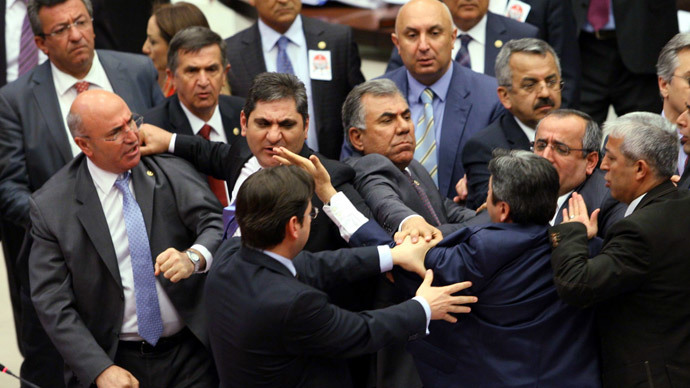 An MP from the main opposition party in Turkey has been taken to hospital after a fight erupted in the Turkish parliament. The scuffles came as MPs were about to vote on a bill allocating more powers to the country's justice minister.
Ali Ihsan Kokturk, from the main opposition Republican People's Party (CHP), was taken to hospital with a broken nose after the fistfight, while a ruling party lawmaker from the Justice and Development Party (AKP), Bayram Ozcelik, had to be treated for a broken finger.
Despite the fight, the controversial bill was passed Saturday morning with 210 votes in favor and 28 against, after a marathon debate that lasted more than 20 hours.
The legislation gives more power to the Justice Ministry over the Supreme Board of Judges and Prosecutors (HSYK), the Turkish disciplinary body responsible for judicial appointments. Once signed into law by the president, it will give the justice minister a mandate to conduct investigations into its members.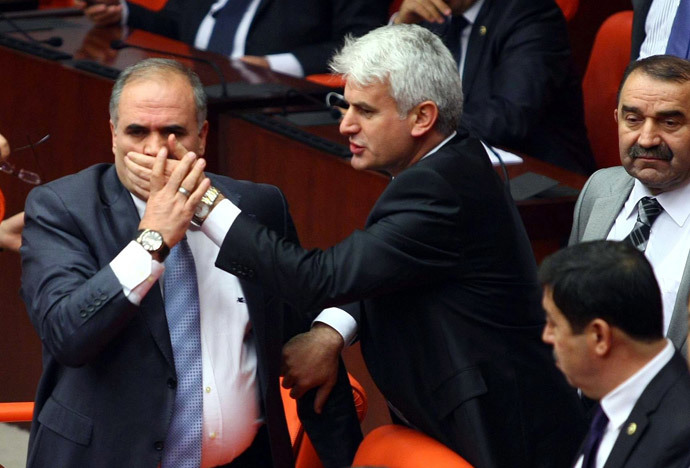 The opposition called the legislation a "government maneuver" to hide allegations of corruption, as part of a graft investigation launched Dec. 17 that implicates state officials, the business elite and three sons of cabinet ministers – two of whom have been charged.
Particulars of the corruption allegations have not been made public, but are thought to deal with construction and real estate, as well as Turkey's gold trade with Iran.
The battle for control of the HSYK lies at the center of the rivalry between Erdogan and his former ally, influential US-based cleric Fethullah Gullen, whose followers are believed to have considerable clout in the Turkish police and judiciary. Erdogan has previously accused Gullen of attempting to stage a coup via the corruption investigation, something the cleric denies.
"The law is an apparent indicator of the ruling Justice and Development Party's attempt to cover the corruption investigation by redesigning the judiciary," CHP lawmaker Aykan Erdemir told AFP.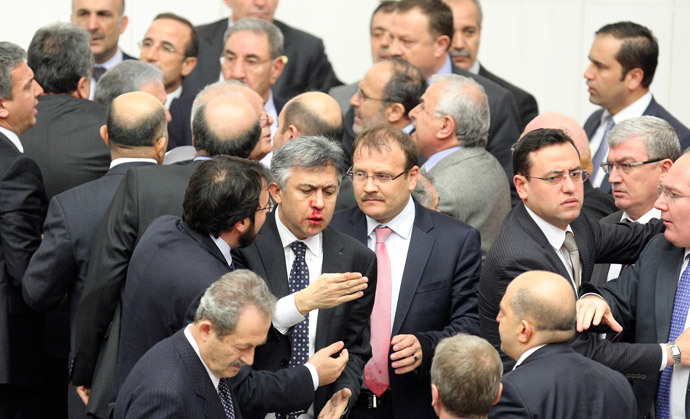 Another opposition MP, Riza Turmen, said the CHP will appeal the bill to the Constitutional Court before President Abdullah Gul can sign it into law.
"The law is against the general spirit of the constitution that guarantees judicial independence," he said after the vote. "HSYK is the key to judicial independence. An independent judiciary is only possible with an independent HSYK."
"The government is in a great hurry, this shows how deep the corruption and bribe allegations are," Oktay Vural, an MP for the Nationalist Movement Party (MHP), told Reuters.
Previously the AKP pushed through the parliament other controversial legislation, including an amendment to a law regulating the internet, which boosts governmental control over the net. The opposition says the amendment is meant to crack down on anti-government comment online. A mass rally against the legislation in Istanbul was dispersed by riot police last Saturday.
You can share this story on social media: