Turkish police fire tear gas at hunger strike supporters (PHOTOS)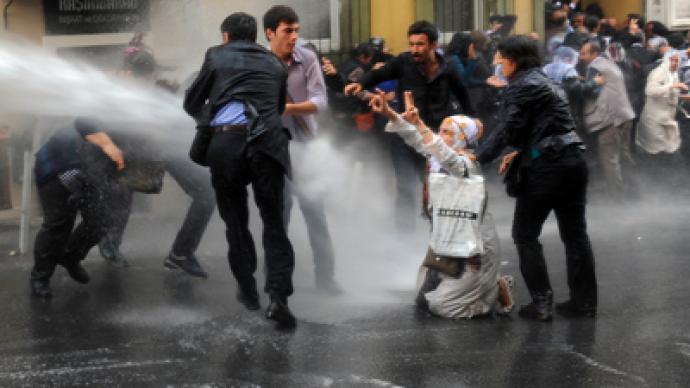 Police in Istanbul have used tear gas and water cannon on protestors supporting a hunger strike by Kurdish prisoner's.  The Turkish PM branded the strikers actions a "complete show", but doctors warn they will start to die in the next 10 days.
About 400 protestors were gathered outside the headquarters of the Kurdish Peace and Democracy Party (BDP) when police fired water cannon and tear gas without warning, according to an AP photographer who was at the scene. The protestors were chanting "evacuate prisons" and "freedom to inmates" as well as slogans supporting Abdullah Ocalan, the imprisoned leader of the banned Kurdistan Workers Party (PKK). The PKK is a militant group, which has been fighting a guerilla war against the Turkish state for the last 28 years to try and create a Kurdish homeland in Turkey's south east. They are designated a terrorist group by the Turkish government, the US and the EU. The BDP, however, refuses to call the PKK a terrorist organization.
Turkish riot police fire water and tear gas as they clash with Kurdish demonstrators during a protest in support of a hunger strike movement by Kurdish prisoners, on November 4, 2012, in Istanbul (AFP Photo / Bulent Kilic)The hunger strikers are calling for improved jail conditions for Abdullah Ocalan, who is prison on an island off Istanbul and for restrictions to be lifted on the use of the Kurdish language. The hunger strike, which is now in its 54th day, is comprised of a number of senior Kurdish figures including jailed politicians, mayors and parliamentarians, some of them in the BDP, which holds 29 of the 550 seats in the Turkish parliament. Some of the 700 strikers are also accused of having links with the PKK.Many of the strikers are allegedly consuming sugar, water and vitamins to drag out their lives and the protest by weeks. The Turkish medical Organization (TTB) warned on Thursday that many of those fasting will have already incurred lasting damage and will start to die in a matter of days.
People face Turkish riot police firing water cannon and tear gas during a Kurdish demonstration in support of a widespread hunger strike by Kurdish prisoners, on November 4, 2012 in Istanbul (AFP Photo / Bulent Kilic)But the strike has incurred little sympathy from Prime Minister Tayyip Erdogan. He told reporters on Wednesday in Berlin that the hunger strike was a"complete show" and that only one of the prisoners was on a "death fast".   He then went on to accuse Kurdish politicians of stuffing themselves with kebabs while ordering militants to starve. Dr. Aytug Atici, an opposition lawmaker and a medical doctor, who toured the prisons earlier this week, said the Prime Minister's comments only appeared to have stiffened the striker's resolve. Yasar Kemal, one of Turkey's best known novelists, has joined the chorus of support for the fasters and has urged the government to stop the protestors dying, reminding them of the outcome of previous hunger strikes. Between 2000 and 2007, 122 prisoners died from hunger strikes against isolation cells. Since the PKK took up arms in 1984, more than 40,000 people have died as a result of the conflict. There are about 15 million Kurds in Turkey, about one fifth of the population. In total there are 30 million Kurds living in Turkey, Iran, northern Syria and northern Iraq in a region known as Kurdistan, but they do not have an autonomous state to call their own.
People face Turkish riot police firing water cannon and tear gas during a Kurdish demonstration in support of a widespread hunger strike by Kurdish prisoners, on November 4, 2012 in Istanbul (AFP Photo / Bulent Kilic)
Turkish riot police fire water cannon and tear gas as they clash with Kurdish demonstrators protesting in support of a widespread hunger strike by Kurdish prisoners, on November 4, 2012 in Istanbul (AFP Photo / Bulent Kilic)
Turkish riot police fire water cannon and tear gas as they clash with Kurdish demonstrators protesting in support of a widespread hunger strike by Kurdish prisoners, on November 4, 2012 in Istanbul (AFP Photo / Bulent Kilic)