Kurdish threat makes Turkey flip flop on Iran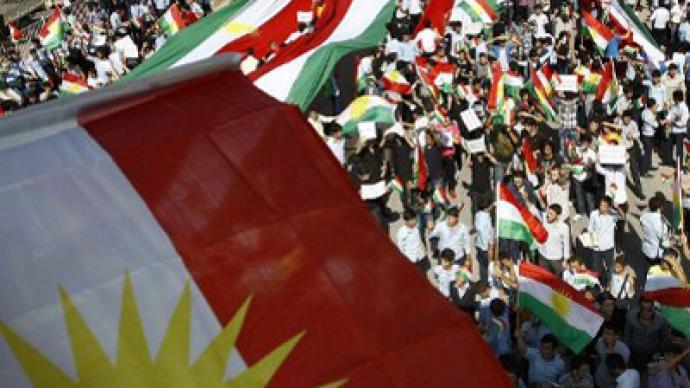 Iran has agreed to help Turkey fight Kurdish rebels in Northern Iraq. The decision struck by senior officials on both sides shows that Ankara's recent decision to move away from Tehran in favor of greater Western alignment might have been premature.
As almost 10,000 Turkish troops chase down Kurdish rebels on Turkey's southeastern border and into Iraq, Iran has vowed to collaborate with Turkey in its battle against the fighters.  The agreement came as Turkish Foreign Minister Ahmet Davutoglu  met with his Iranian counterpart Ali Akbar Salehi in the Turkish capital of Ankara on Friday, the Associated Press (AP) reports.  The latest Turkish military offensive comes as some 100 fighters from the Kurdistan Workers Party (PKK) launched coordinated attacks on multiple army outposts on Turkey's southeast border with Iraq.  Twenty Four Turkish troops were killed in the deadliest attacks in almost three decades.  The PKK immediately issued a statement taking responsibility for the assault:"Our guerrillas carried out simultaneous attacks starting at 1 a.m. (2200 GMT) on regiments in the center of Cukurca district and at Bilican (both located in the Hakkari Province in the south east corner of Turkey which borders Northern Iraq) and surrounding military posts … Nearly 100 soldiers and special forces police have been killed or wounded," as cited by Reuters news agency.Turkish President Abdullah Gul was resolute in his desire to hit back hard:"No one should forget this: those that inflict this pain on us will endure far greater pain; those that think they will weaken our state with these attacks or think they will bring our state into line, they will see that the revenge for these attacks will be very great and they will endure it many times over," as cited by Reuters.  Within hours, Turkish commandos and other troops were five miles deep in Iraqi territory as aerial attacks were conducted on PKK positions along the Zab River which snakes through the two countries.  Security sources claim that at least 15 rebel fighters were killed in the initial assault.Ankara has been trying for years to stamp out a 27 year-old war against the PKK, which is fighting for an autonomous Kurdish State in southern Turkey.  Since the 2003 US invasion Iraq, the country's autonomous Kurdistan region has provided a base of operations for the rebels, contributing to greater regional instability.  In 2004, the group repelled a 1999 self-imposed cease-fire.The Kurds, who are often described as the world's largest non-state nation, number some 25-35 million worldwide.  With some 15 million estimated to be living in Turkey, six million in Iran, five million in Iraq, and around 1.5 million in Syria, the PKK has sought to create a broader Kurdish state which would incorporate territory for all four countries.  However, their decision to resort to violence in pursuit of this aim has led Iran, Turkey, the United States and the EU to list the PKK as a terrorist organization.Ironically, Turkey's appeal for Iranian help comes on the heels of what was thought to be a diplomatic realignment between the two historical rivals.  Speaking earlier this week, Sinean Ulgen, a former Turkish diplomat, told Radio Free Europe Turkey's policy of facilitating greater harmony with Iran had come to an end. "I think we can talk about a new phase. So indeed we are entering a period of more realistic assessment," he said.Tehran for its part had been angered by Ankara's recent decision to allow NATO to deploy a radar on Turkish soil as a component of its antimissile system. Relations had also been strained due to Turkey's close cooperation with the United States on its Syrian policy.  As a result, many Western policy makers were predicting that Turkey and Ankara would increasingly compete for control over influence in Iraq.  However, Friday's decision to jointly combat PKK operations in Northern Iraq might thwart plans from those who sought to isolate Iran in the wake of allegations Tehran was involved in a plot to kill the Saudi Arabian ambassador to the United States.    
You can share this story on social media: