14 arrested in Istanbul as police use tear gas against protesting football fans (PHOTOS)
Published time: 21 Apr, 2014 00:28
Edited time: 21 Apr, 2014 00:48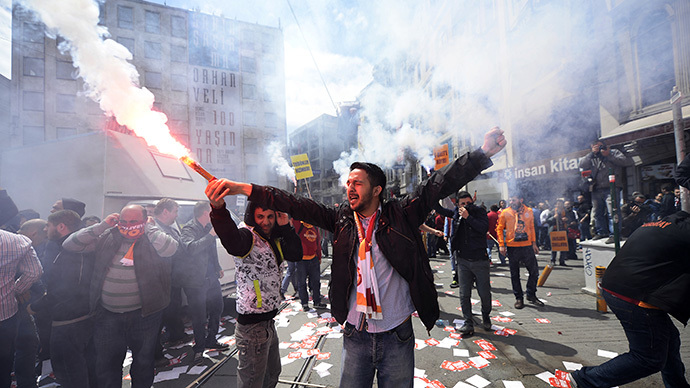 Police in Istanbul used tear gas and water cannons to disperse hundreds of football fans protesting the recent switch to the e-ticket system, which they say allows police to snoop on their private data. At least 14 people were arrested in the clashes.
Demonstrators aimed to march from Galatasaray Square to the city's famous Taksim Square to show their disapproval of the electronic ticket system that was introduced by the Turkish Football Federation (TFF) earlier this week. However, the protesters didn't even manage to complete half of their march.
Police intervened as protesters approached Istiklal Avenue, located just 300 meters from the starting point of the march, and refused to peacefully leave the area. As fans started throwing flares at the police, officers used tear gas and water cannons to stop the rally from continuing.
According to local media, over 700 protesters were present at the demonstration.
Most of the protesters were from three Istanbul football clubs: Galatasaray, Fenerbahce and Besiktas.
Opponents of the new system say it will allow police to access private data – including personal identity information and bank account details – when they buy match tickets. They claim it will give the government greater control over its population through invading people's privacy.

Many football fans have vowed to boycott matches while the system remains in place.

The Turkish Football Federation adopted the electronic ticket system on April 14, replacing paper tickets. From now on, fans must use an electronic fan card called 'Passolig.' The federation says the system was introduced to help fight violence and vandalism during football matches.
The new system will help authorities pinpoint which fans were responsible for violence during the game, as it forces everyone attending the match to buy the electronic card online ahead of time and pre-pay the amount needed for the match.
The card was created by investment bank Aktif Yatirim Bankasi AS, which allegedly has close ties to the ruling Justice and Development Party (AKP).