43 killed, over 100 injured as blasts rock Turkish town on Syrian border (PHOTOS, VIDEO)
Forty-three people were killed and over 100 injured when several explosions struck a city in southern Turkey, near the border with Syria, according to officials.
"Two car [bombs] were set off in front of the municipality," Interior Minister Muammer Güler said, adding that one of the car bombs exploded outside the city hall while the other went off outside the post office in the city of Reyhanli.

In initial comments, Prime Minister Recep Tayyip Erdoğan said nearly 20 people died in the blast.

"We have around 20 dead and 46 people were injured, but we have to note that many of the injuries are severe, which means the death toll could unfortunately rise,"  he said.

A municipality building was severely damaged by one of the explosions, Reyhanli Mayor Huseyin Sanverdi said. A wooden building close to the municipality collapsed following the blasts.

Health Minister Mehmet Muezzinoglu said at least 15 ambulances rushed to the scene to help the injured, AP reported.
A few hours after that a third explosion was reported in Reyhanli.
Reports of many injured in the third explosion in Hatay Reyhanli on the Syrian border.

— Mahir Zeynalov (@MahirZeynalov) May 11, 2013
According to local media, the third explosion targeted the basement of a building where Syrian refugees have been staying.
At the same time Reuters reports that according to local media the blast appeared to have been caused by a car engine or building boiler room.
No one has claimed responsibility yet for Saturday's bomb attack; an investigation has been launched. Five people, three of whom are Syrians, have been arrested in connection to the blasts, local channel NTV reported.
Turkish Deputy PM  Besir Atala later said that Reyhanli attackers had links to "Syrian regime and intelligence," the channel reported.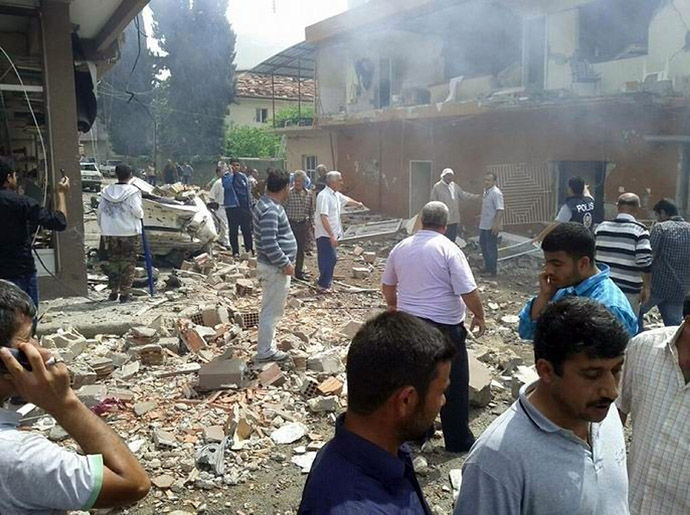 In a comment on the attacks, Turkish Foreign Minister Davutoğlu called the attacks a "provocation," saying that the timing was not coincidental: "Such provocation can [come to mind] in such a critical transition phase regarding Syria. It is not a coincidence that this happened when diplomatic traffic is intensifying. We invite our citizens to be prudent. The incident will be investigated."

Turkish Minister also warned against "testing Turkey's power," saying that those behind the attacks "will get a response."

"No one should attempt to test Turkey's power. Our security forces will take all necessary measures," Reuters quoted Ahmet Davutoglu as saying. "Those who for whatever reason attempt to bring the external chaos into our country will get a response."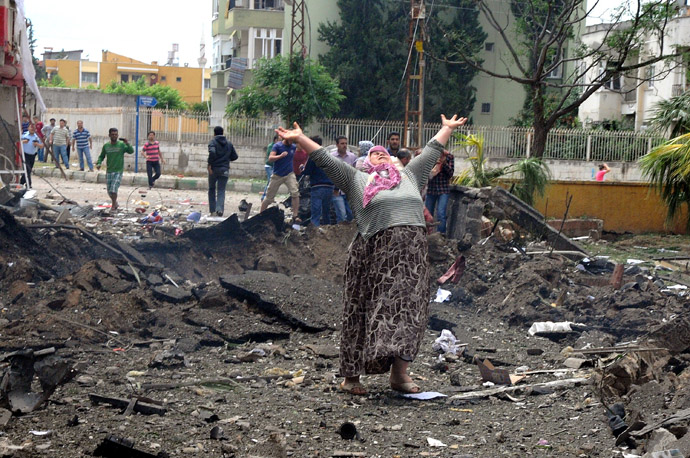 Local media reported that the blasts sparked panic in the town; some locals started attacking Syrian refugees and cars with Syrian license plates.
Turkish Prime Minister Tayyip Erdogan said the blasts may have been related to Syria, or to protests against the Kurdish peace process.
"We have started a resolution process in our country, and there are those who don't accept this new era or do not consider the air of freedom to be positive who might have been involved in such [attacks]," Erdoğan said.
"Hatay is a province where there are some sensibilities. Some might have intended to incite these sensitivities. Around 20,000 to 25,000 Syrians live in camps [across Hatay]. It might be a factor of not accepting this," he stressed.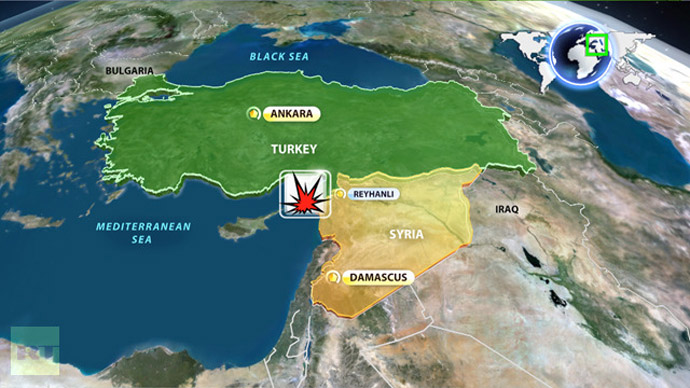 Following the blasts, large numbers of Turkish air and ground military units were deployed to Reyhanlı, Haya Province, on the Syrian border.
US ambassador to Turkey Francis Ricciardone has "strongly condemned" Reyhanli attack, saying his country stands with Turkey in identifying those responsible. 
"The United States stands with the people and Government of Turkey to identify the perpetrators and bring them to justice," Ricciardone said in a statement. "We mourn the tragic loss of life and pray for a full and speedy recovery for those who were injured," the statement added. 
NATO Secretary General Anders Fogh Rasmussen also published a statement on the organization's website, in which he condemned the attacks.

"These despicable acts show total disregard for the life of civilians. I express full solidarity with the people and the authorities of our ally Turkey," Rasmussen said.
Russian Chairman of the Duma Committee on Foreign Affairs Aleksey Pushkov tweeted Saturday that blaming the Reyhanli bombings on the Syrian government was aimed at derailing the proposed international conference on Syria and justify foreign military intervention in this the Middle Eastern country.

"Syria has been blamed for terrorist acts in Turkey, as it always is. Somebody wants to derail international commission on Syria and push ahead the use of force," he tweeted.

Reyhanli, a town of about 60,000 in Hatay province just across the border from Syria's Idlib province, has come under attack several times in recent months. In February, a mortar round landed near the border, killing 13 and injuring 33.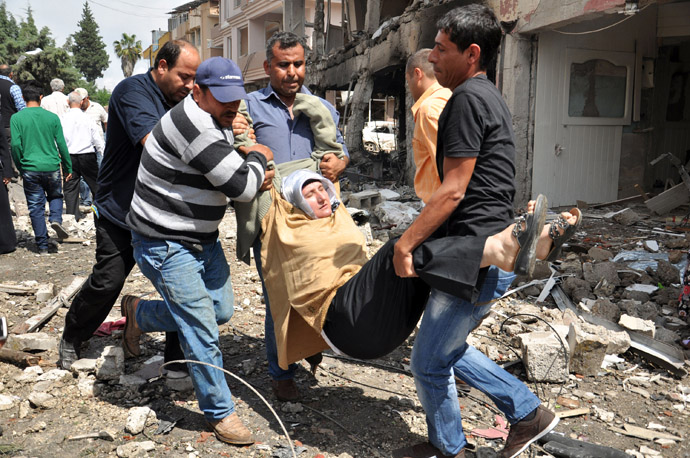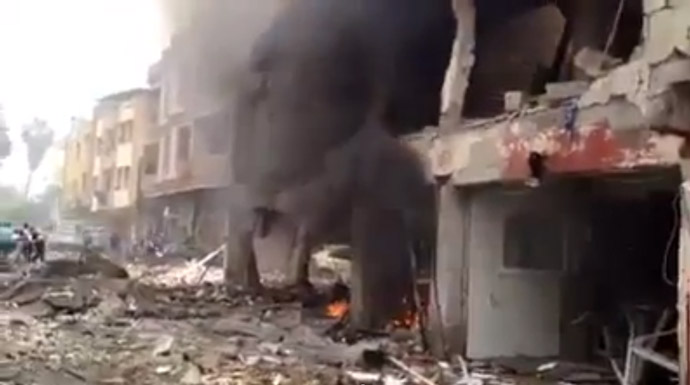 You can share this story on social media: