Turkey court overturns YouTube ban, except on 15 videos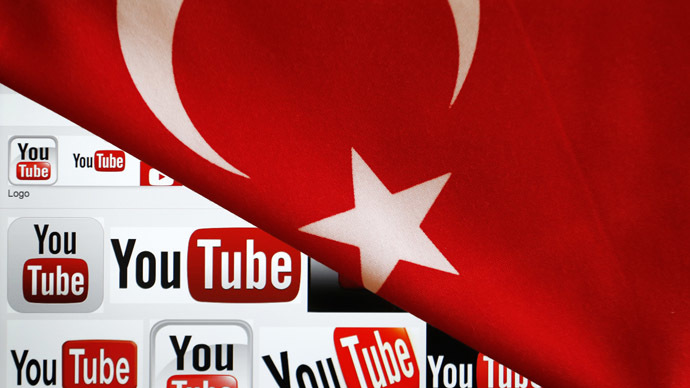 Ankara court ordered a Turkish government ban on YouTube to be lifted, but allowed the blockage of 15 specific videos to remain in place. The move comes after a similar overturning of a government ban of Twitter.
The court in the capital Ankara said the YouTube ban was too broad and instead specifically blocked access to 15 videos, a copy of the court document showed, as Reuters reports.
Unlike the decision on Twitter, the ruling on YouTube was not taken by Turkey's constitutional court and may be overruled by a court of higher jurisdiction.
This means that in practice the video hosting service will remain blocked for now, pending a likely government appeal.
The Turkish communication regulator ordered the blockade of YouTube on March 27.
It came shortly after a video was published on it, allegedly of several top government officials discussing a possible false flag operation in Syria to justify a military incursion.
The government of Prime Minister Recep Tayyip Erdogan dismissed the leaked record as part of a smear campaign against it and a threat to Turkey's national security.
The conversation, the leaking of which triggered the ban, is among the 15 YouTube videos banned under the court ruling.
Access to Twitter in Turkey was barred by the government until Thursday, when it was lifted following the Constitutional Court ruled the ban illegal.
On Friday, Erdogan blasted the Constitutional Court's Twitter decision, defying it.
"We are of course bound by the Constitutional Court verdict, but I don't have to respect it," the prime minister told a press conference. "I don't respect this ruling."
Erdogan faces the worst political crisis in a decade of rule, which he blames on his former ally and rival Fethullah Gulen, a powerful preacher and politician currently exiled in the US. The Turkish government was mired in a graft investigation last year, which the government claimed was inspired by Gulen through a network of loyal officials in police and judiciary.
In response to the perceived attack, the government launched a major overhaul of law enforcement, as well as pushed through new strict regulations, which critics say amount to stemming freedom of speech and imposing a dictatorial rule in Turkey.
Despite the scandals, Erdogan's AK Party scored 45 percent of votes in recent municipal election, surpassing the expectations.
You can share this story on social media: