US Embassy bomber in Ankara had terror conviction, brain disorder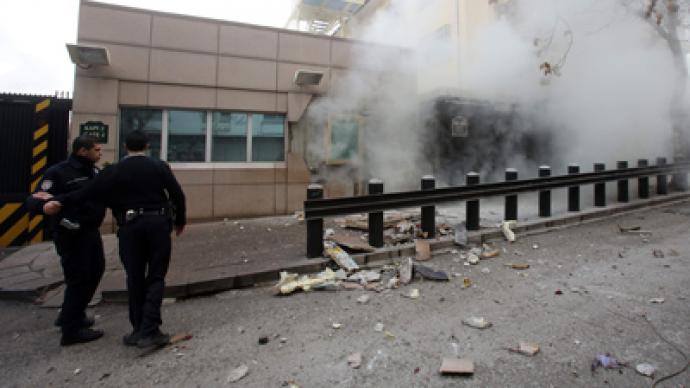 The suicide bomber who struck the US embassy in Ankara, killing himself and one security guard, had previously spent five years in prison on terrorism charges. He was later released after being diagnosed with a hunger-strike-induced brain disorder.
On Saturday, Turkish police detained three people in connection with the suicide bombing, Turkish public broadcaster TRT reported.The bomber, identified as leftist militant Ecevit Sanli, used six kilograms of TNT and also detonated a hand grenade during his attack on the highly-fortified embassy in the Turkish capital on Friday. Security cameras showed he was dressed up like a post carrier and was clutching an envelope while entering.Along with the guard who was killed while manning a checkpoint, Turkish TV journalist Didem Tuncay received serious head wounds and remains in critical condition. Two other guards suffered less serious injuries in the blast. The motives for the attack remain unknown.DNA tests confirmed that Sanli was the assailant on Saturday. On Friday, Prime Minister Recep Erdogan told Haberturk that the bomber had been visually identified."The suicide bomber exploded the bomb right after crossing [the personnel entry] and died in the explosion. A birth mark on his head proves [his identity], but DNA tests will be carried out to make sure. It is clear that he is a member of DHKP/C. He has perpetrated such attacks before," he said during a live TV interview.Sanli is former a member of the outlawed Revolutionary People's Liberation Party-Front (DHKP-C), which on Saturday claimed responsibility for the attack on the embassy. On Saturday Turkish Interior Minister Muammer Guler revealed that Sanli had entered Turkey illegally under an assumed identity, Hurriyet Daily reports. Guler added that there was an outstanding warrant for Sanli, who had fled the country and later returned using a fake ID.Sanli had been living in Germany before entering Turkey illegally via Greece . Upon arriving at the US embassy, Sanli presented himself as a German citizen.Turkish authorities are investigating who helped Sanli  reenter the country undetected. The Turkish Ministry of Foreign Affairs has been in contact with German authorities, and the CIA is also reportedly assisting in the investigation, the daily said.The man was arrested in 1997 on suspicions of being involved in an assault on a police headquarters and military guesthouse in Istanbul, the Associated Press reports. He was subsequently charged with being a member of an illegal group.While awaiting trial, Sanli took part in a mass hunger strike protesting the prison's conditions, resulting in the death of dozens of inmates.Sanli was then released in 2002 after being diagnosed with Wernicke-Korsakoff syndrome, a malnutrition-related brain illness that causes vision changes, impairs memory, affects muscle coordination and can cause hallucinations. Sanli fled Turkey upon his release and was convicted in absentia the same year.While the Turkish Prime Minister blamed the DHKP-C hours after the attack, it is yet to be proven that Sanli was operating on their behalf.Turkey launched a nationwide crackdown on the DHKP-C after the group claimed responsibility for a suicide bombing that killed a police officer in Istanbul on September 11.The Marxist group is virulently anti-US and anti-NATO, and strongly opposes the Turkish government. The group, which was responsible for a string of assassinations and bombings since its inception in the 1970s, has been far less active in recent years.Security forces have de-prioritized the DHKP-C following the ascendence of Al-Qaeda as the primary terrorist threat.Friday's attack was summarily condemned by Turkey, the US and other NATO allies. NATO Secretary General Anders Fogh Rasmussen said the bombing demonstrated "a reckless disregard for human life and for the inviolability of diplomatic staff." Similar attacks endangering the 70,000 diplomats currently operating in Turkey have happened sporadically in recent years. In July 2008, three gunmen and three Turkish policemen were killed in a brazen assault outside the US consulate in Istanbul.In November 2003, several suicide car bombings targeted the British consulate, as well as two synagogues and a branch of UK bank HSBC. Sixty-three people, including Britain's consul general, were killed. An Al-Qaeda cell claimed responsibility for the attack.
You can share this story on social media: