Arrested development: Tunisia deeply divided one year after first free elections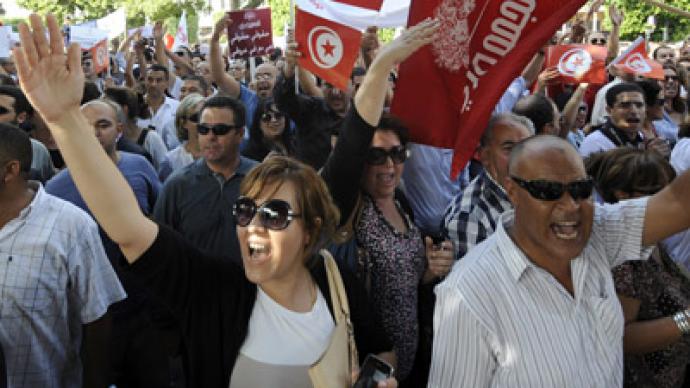 One year since the mass uprising in Tunisia was vindicated by the election of its National Constituent Assembly, the country remains split on almost every issue, with tensions over a stalled constitution, human rights abuses and sporadic violence.
­Tunisia's was the first and most peaceful of the Arab Spring uprisings, sending shockwaves across the Middle East and North Africa when Zine El Abidine Ben Ali, who had ruled the country since 1987, was forced from power.It was also the first Arab country to see the rise to power of an Islamist party, En-Nahda, which had been banned before the revolution. It now rules in coalition with the Congress for the Republic party.October 23, 2012 marks the first anniversary of the vote that created the Tunisian National Constituent Assembly after the Arab Spring uprising that toppled Ben Ali. But no unified national event has been organized to mark the date, reflecting the deep divide within the country. For months, the ruling Islamist coalition and the opposition have struggled with proposed legislation in the interim parliament. Those tensions have translated into violence on the ground in the capital, Tunis, and other major cities. Human rights violations are also on the rise, according to Amnesty International. Reforms that were promised – including the release of political prisoners, new laws on press freedom and associations — have not been maintained, claims the organization. Amnesty also says that new restrictions on freedom of expression targeting journalists, artists, critics of the government, writers and bloggers have become more and more frequent in recent months. "Protesters, who have continued to take to the streets in different parts of Tunisia to express their dissatisfaction with the slow pace of reform, have been met with unnecessary and excessive force," Amnesty said, adding that that it has received reports of torture and other ill treatment, "many of them from protesters who alleged they were beaten during demonstrations, during arrest or in detention centers."And a dispute between authorities and the media has aggravated political tensions, with journalists staging a national strike on October 17th, accusing the government of undermining press freedom.Protests have also erupted over the government's failure to address social and economic grievances such as unemployment and high living costs, key factors behind last year's revolution, especially in poorer areas of central Tunisia.On the eve of the vote's first anniversary, thousands took to the streets, protesting the lack of government effort to stem violence in the country.