Rebels capture key military base near Tripoli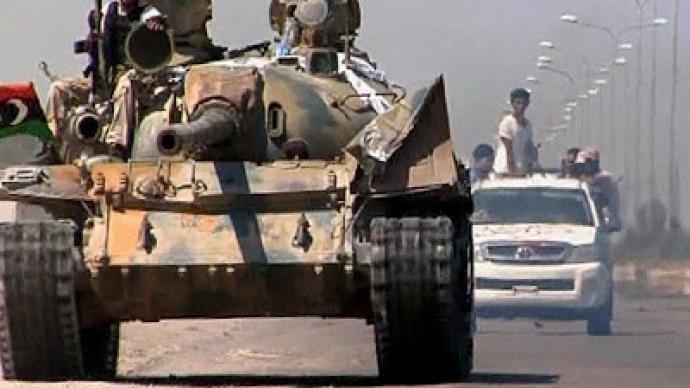 Libyan rebels have captured a major base defending Muammar Gaddafi's stronghold of Tripoli, the Associated Press reported. A reporter with the rebels saw them take over the base of the Khamis Brigade, 16 miles west of the capital on Sunday.
The allegedly overrun 32nd Brigade is commanded by Gaddafi's 27-year-old son Khamis. Commonly called the Khamis Brigade, it is one of the best trained and equipped units in the Libyan military.The rebels seized large stores of weapons from the base and drove away with truckloads of new supplies.Libyan activists in Tripoli claimed some 200 rebel reinforcements have reached Tripoli by sea from Misrata.Reports from Tripoli were impossible to confirm because journalists were confined to their hotel, and mobile phone contact was cut off in many areas, making it hard for residents to know exactly what was happening in other areas.But gunfire is being heard, says Franklin Lamb, director of Americans for Middle East Peace, who is now in Tripoli. The Marriott Hotel, he said, seems to be on fire."People are preparing here; people are moving around, " Lamb told RT via phone. "Young men are taking up defensive positions and are going to different areas where they are directed."Lamb admitted that his only source on rebel movements is Western media."There is certain anxiety and tension and adrenaline flowing," he said. "Nobody knows how far [the rebels] are. The mainstream media are reporting they are getting closer and closer."Lamb said he saw tourist buses filled with young men heading along the streets to fortify the Gaddafi loyalists' positions in the capital.
Meanwhile, Germany and France urged Colonel Muammar Gaddafi to step down immediately as rebels advance on the Libyan capital Tripoli.
"NATO using rebels as pawns"
NATO is blocking any attempts by Libyan rebels to negotiate with the Gaddafi regime, claimed Franklin Lamb, director of Americans for Middle East Peace."We have talked to rebels who want negotiations," said Lamb, who is now in Tripoli. "They don't want to kill their Libyan brothers and sisters. NATO has forbidden that. This is NATO's campaign. They need Gaddafi dead or out of the country, so that they can claim a victory. In a sense, they are using the rebels as pawns. And when the thing is over, depending on which way it plays out, I think there will be enormous infighting."If the violence does drag on, some analysts say, the UN may extend NATO's mandate to carry out air strikes against the Libyan regime during the UN General Assembly in New York next month."This could happen, if they don't get rid of Gaddafi," said Ivan Eland, a senior fellow at the Independent Institute in Washington, "I am sure getting rid of him is their main goal, while protecting civilians is their stated goal."
You can share this story on social media: