Italian train crash leaves one dead, 25 injured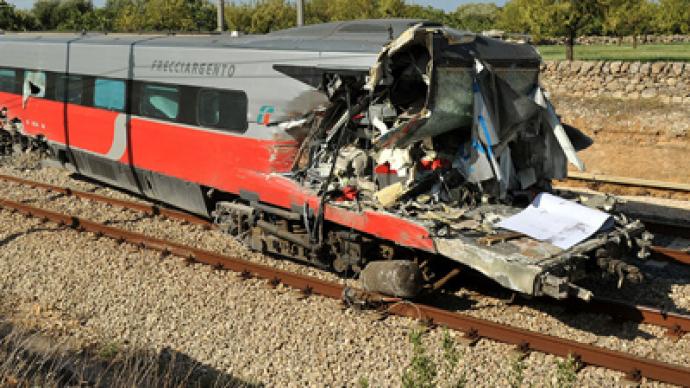 One person has been killed and 25 others injured after a high-speed train hit a truck on a railroad crossing in Southern Italy. The accident occurred when the lorry tried to cross the track, just as the safety barrier was closing.
The driver of the stuck vehicle managed to abandon it before the Silverarrow train from Rome to Lecce hit the truck. The collision derailed the train and forced it onto the local highway in Italy's Puglia region. Ten passengers were taken to the hospital and 15 others were treated for minor injuries on site, with the train's driver being the only fatality. An Investigation at the crash site has so far determined that the early warning alarm system, signaling a train's approach, was working properly.The inquiry believes that the driver of the tractor-trailer "committed a grave, imprudent act," Brindisi Prosecutor Marco Dinapoli told reporters.A 26 year old truck driver has been arrested on charges of suspected manslaughter. "What is striking is that the lorry driver was primarily concerned about his own safety rather than caring about the passengers of the high-speed train," Dinapoli said."He could have broken through the (second) safety barrier, which would have activated a device that would have stopped the train."