Toxic key to profit: police bust mercury contaminators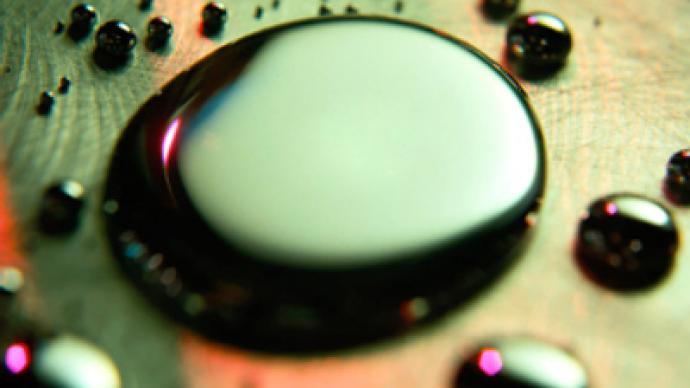 A Moscow company specializing in de-contaminating buildings from mercury is suspected of creating job opportunities by deliberately spilling the poisonous metal in public places.
The Innovative Technologies company has been cleaning mercury contamination under contract from Moscow's emergencies service, reports the Vesti TV channel. But now police suspect its head, Vladimir Innovatkin, of creating the demand for his services by secretly contaminating public places with the very poison he removes.
Investigators believe that Innovatkin was behind several mercury spilling accidents in the city over the last months. The last one happened in a mall on April 30. The guards spotted a man dropping mercury on the floor in a sports shop through a tube running down his leg, from inside of his pants. He managed to spill some 400 grams of the toxic metal before he was caught.
Metallic mercury poisoning
Concentration higher than 0.0003 micrograms of mercury vapors in one cubic meter of air is considered unsafe, and concentration as low as 0.7 micrograms per cubic meter leads to acute poisoning. The vapors are effectively absorbed through the lungs with about 80% of the metal transmitted to the bloodstream. The first symptoms of acute poisoning appear several hours after exposure and include metallic taste, cough, dyspnoea (impaired breathing), chest tightness and lethargy. If the dosage is big enough, the poison affects the neural system, which may cause tremors or behavior disturbances. Symptoms may include bleeding gums, loosening of teeth, discoloration of skin, and others.
Now it was revealed that the man, who turned out to be an unemployed guest worker from the city of Belgorod in western Russia, was to have received a monetary reward of about $625. He was promised the money and supplied with the large quantity of mercury by Artur Ivanov, Innovatkin's brother. According to the police, Ivanov did not want to do the contamination himself because he knew how dangerous mercury was and didn't want to risk his health.
Now the firm and its director, who was revealed to have a criminal record, are being probed for involvement in other similar cases. He is now charged with illegal trade of dangerous compounds, but the police are looking for more evidence, which may allow substituting the charge with a more serious one.
Poisoning from mercury vapors is highly dangerous and can do permanent damage to the kidneys, the brain, and in worse cases lead to death. It can also cause great harm to fetuses and cause developmental problems in children.
In the April spilling case, mercury concentration in the air of the mall exceeded safe levels by 70,000 times. All of the policemen, who kept people from approaching the contaminated building, had their shoes destroyed for health safety reasons.
You can share this story on social media: