2 foreign teachers found dead in Libya amid leadership's plans to reopen major oilfield
Britain has confirmed the death of one of its nationals in Libya but has not given details about the circumstances in which he died. The New Zealand Foreign Ministry has also said it was aware of the death of a New Zealander.
Two foreign teachers have been found dead in Mellitah, 100 kilometers west of Tripoli, Libya, as the country struggles to maintain security and revive its economy after rebels agree to end a two-month blockade of a key oil export terminal.
"We are aware of the tragic death of a British national in Libya. We stand ready to provide consular assistance," a spokesman for the British Foreign Office said.
UK Foreign Office official told AP that they were were "urgently seeking further information from the authorities."
But the UK's Press Association reported that the Briton was an oil worker and not a teacher, citing unnamed sources.

New Zealand's Foreign Ministry said that it was aware of the reports that one of its nationals had been killed and was in contact with the authorities in Libya.
"We are working with the relevant authorities to confirm this. The bodies have not yet been formally identified and the next of kin have not yet been informed," a New Zealand Ministry of Foreign Affairs and Trade spokesman told Reuters.
The bodies of the two teachers working in Libya, a British man and a New Zealand woman, were discovered with lethal gunshot wounds outside the western city of Sabratha.
"Their bodies were found near the coastal area of Mellitah," near an oil and gas complex in western Libya, an anonymous security official told Reuters. No additional details on the identity of the two were given.
The motive for the crime is under investigation as their luggage and belongings were not stolen by their killer.
The latest deaths come less than a month after an American teacher was shot to death in Benghazi.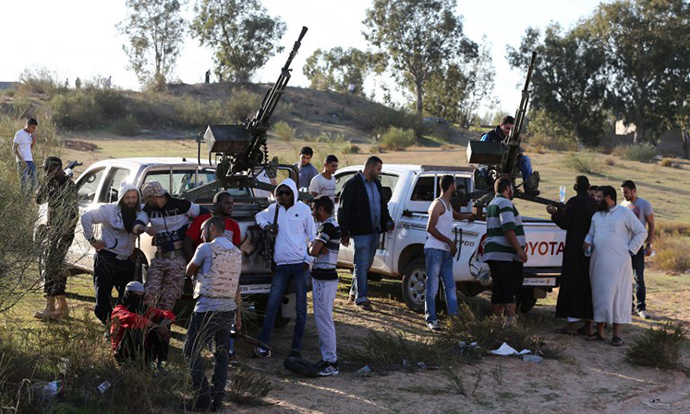 Since 2011 and the toppling of Muammar Gaddafi, the central authorities are still struggling to tame a number of unruly militias, including Islamic hardliners.
Libya is sliding deeper and deeper into lawlessness as government authorities fail to reign in various militias and armed groups, many of which are allayed to Al-Qaeda, Lawrence Freeman, editor of the Intelligence Review Magazine, told RT.
"Libya doesn't really exist as a country right now, it is made up of all kinds of militias and armed groups with control by Al-Qaeda. The country is in state of lawlessness now, the west has destroyed Libya," he said.
Arrests of Americans
Meanwhile two American basketball players have been detained by the Libyan army in Benghazi, sources told Reuters. Both were allegedly arrested at Benghazi University.
''They were arrested by university guards and then brought by special forces to the army barracks,'' an army source said, without providing any further explanation.
Last Friday, four American military personnel were released after several hours in custody. The service members were reportedly in Libya augmenting security at the US Embassy in Tripoli. The four are believed to have been reviewing potential evacuation routes for diplomats at the time of detainment.
Oil export revival – a failed attempt?
Libya's central government hopes that it will resume oil production and export at one the country's largest oilfields, El Sharara.
The leadership expected it to happen within three days after local militia, seeking greater autonomy in the region, agreed to suspend their two-month sabotage. "They agreed to lift the blockade," defense ministry spokesman said.
The Tuareg tribesmen, who have held the some 350,000 barrels per day field hostage since October, demanded the creation of a local council and granting national identity cards for tribesmen.
Libya's main source of income, its oil sector, has been crippled following the power vacuum created after the civil war. Armed tribesmen seized key ports and oilfields across the country, cutting output to around 220,000 barrel per day (bpd) from 1.4 million bpd in July.
You can share this story on social media: