Taliban will free US soldier if 5 'operatives' released from Gitmo - AP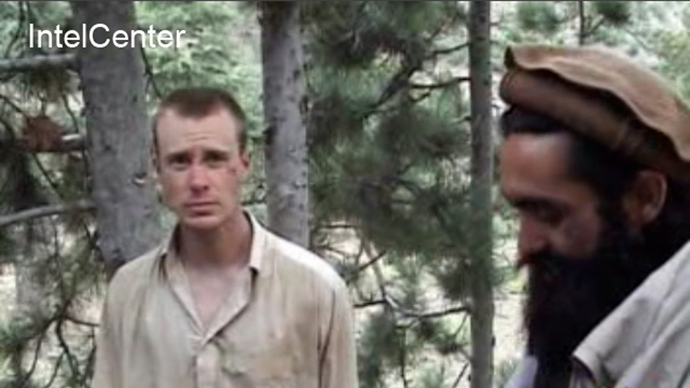 The Afghan Taliban say they are willing to release a US soldier captured in 2009. The group has demanded the release of five senior operatives from Guantanamo Bay prison in exchange for the soldier's freedom.
US Army Sgt. Bowe Bergdahl is "in good condition," Taliban spokesperson Shaheen Suhail told AP. Bergdahl has been in captivity since June 30, 2009.
The Taliban are demanding the five Gitmo detainees be released before they hand over Bergdahl to the US, Suhail said, adding that the militant movement "wants to build bridges of confidence" through the exchange.
Suhail made the remarks from the Taliban's newly opened office in the Qatari capital Doha.

The proposal comes as the US attempts to press forward with talks with the Taliban despite angry denunciations from Afghan President Hamid Karzai.

Kabul suspended security talks with Washington on Wednesday, saying the Afghan government had been sidelined by the US and Taliban in their proposed peace negotiations.
"As long as the peace process is not Afghan-led, the High Peace Council will not participate in the talks in Qatar," President Karzai said in a statement.
Kabul also complained that the militant movement poses as a representative of the 'Islamic Emirate of Afghanistan,' an entity that Afghan authorities do not recognize as legitimate. The name was used by Afghanistan back when the country was under Taliban rule in the 1990s. The Islamist government was recognized but a handful of UN members, but was ousted by the 2001 NATO invasion.
Kabul's anger came a day after the Taliban opened its office in Doha with a ribbon-cutting ceremony, which the Karzai government blasted as an attempt to create a rival embassy in Qatar.
"The agreement was that the office should open only – and only – for negotiations, not as a political entity like a parallel institution to the Afghan Embassy which is already there," Shafiullah Nooristani, a member of the High Peace Council said.
The US was expected to start talks with the Taliban as early as this week in Doha. Washington is attempting to secure a safe exit from Afghanistan for its troops next year.
Some expected the preliminary talks to open on Thursday, but the meeting became unlikely after Kabul voiced objections, a senior US source familiar with the matter told Reuters.
You can share this story on social media: