Pakistani Taliban release video of beheaded soldiers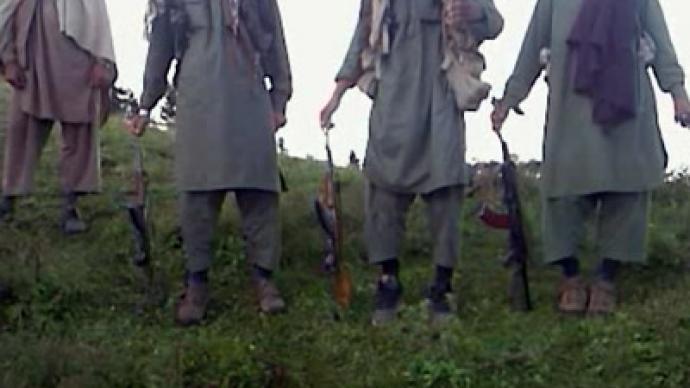 The Pakistani Taliban has circulated a video showing the severed heads of what they claim are 12 beheading victims. The tape surfaced after the Pakistani military reported at least 15 soldiers missing after a fight with Taliban militants.
The clashes were part of a Pakistani operation to root out Taliban insurgents who occupied the village of Batwar last Friday, near the country's border with Afghanistan.The footage, distributed to AFP by the The Tehrik-e-Taliban Pakistan (TTP), showed heads lying on the ground and the soldiers' belongings spread out on a sheet. Several Taliban militants are standing over the heads, including one holding a large ax. In the video, AFP reports the commander of the group as saying, "Praise be to God that the Mujahideen in Bajaur agency have managed to kill the infidel soldiers of Pakistan.""Many of them were killed by bullets, 12 of them as you see have been beheaded, you see 12 heads here, and more heads are on the way," the commander said. The speaker claimed that the troops were killed to avenge "brutalities" carried out by Pakistani soldiers.  The video also shows what are alleged to be the dead men's identification cards, but authorities have not yet confirmed the identity of those shown in the video. In July, the Taliban released a similar video showing the bodies of 17 decapitated soldiers, who they claimed were executed in a cross-border attack on a checkpoint in the northwestern Pakistani district of Upper Dir.Bajaur, a tribal region in Pakistan, had long been a stronghold of Taliban and Al-Qaeda militants in the country. Clashes between militants and government forces in the region over the past week have claimed at least 50 lives, including 31 militants. Islamabad has lost more than 3,000 soldiers in the fight against domestic rebels.
AFP Photo/Tehreek-e-Taliban Pakistan