Pakistan halts airstrikes against Taliban after militants announce truce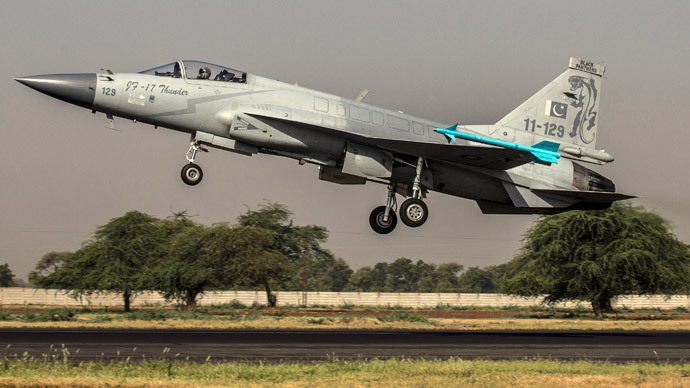 The Pakistani authorities are halting air strikes against the Taliban as a response to a month-long ceasefire, which the militants announced on Saturday.
"After the positive announcement yesterday by the Taliban, the government has decided to suspend the air strikes, which were continuing for the past few days," Chaudhry Nisar Ali Khan, Pakistan's interior minister, said in a statement.

"The government and armed forces of Pakistan, however, reserve the right for a befitting response to any act of violence (by the Taliban)," the minister stressed.

The minister added that since the government of Prime Minister Nawaz Sharif took charge last year, Islamabad hadn't taken "any unjustified action" against the Taliban, it only reacted to militant attacks.

Khan also said that the "government considers the announcement of stopping of violent activities by Taliban a positive development."

On Saturday, the Taliban announced a month-long ceasefire aimed at reviving peace talks with the Pakistan government.

"The senior leadership of the Taliban advises all subgroups to respect the Taliban's call for a ceasefire and abide by it and completely refrain from all jihadi activities in this time period," Shahidullah Shahid, Taliban's spokesman, said in a statement.

The negotiations began on February 6, but broke down after the Taliban said that they executed 23 soldiers in retaliation for the killing of their fighters by the Pakistani military.

An unnamed Taliban commander told Reuters that the truce was called in after the insurgents received guarantees from the government that they won't be attacked.

"You can say the government first announced a ceasefire and we did it later," he said.

A member of the government's negotiation team, Rahimullah Yusufzai, told AFP that "the possibility of resumption of peace talks has now increased. A ceasefire was the demand of the government and the negotiations committee."

"But the ceasefire should be effective. If attacks continue then the conducive environment we are searching for won't materialize," he added.

However, the many analysts remain skeptical about the ceasefire announcement, saying that the Taliban simply needed a break after over 100 of its militants were killed in airstrikes in recent days.

"It seems to be a tactical move in view of the losses they have been taking," Imtiaz Gul, the head of Islamabad-based think tank the Center for Research and Security Studies, told Reuters. "The message from the army has been very clear – they will not accept any nonsense."

The Pakistani Taliban is fighting to topple Prime Minister Nawaz Sharif's democratically elected government and impose Sharia law in the country, which possesses nuclear weapons.
You can share this story on social media: