​Taliban's deadly assault on Afghan outpost as prisoner exchange talks suspended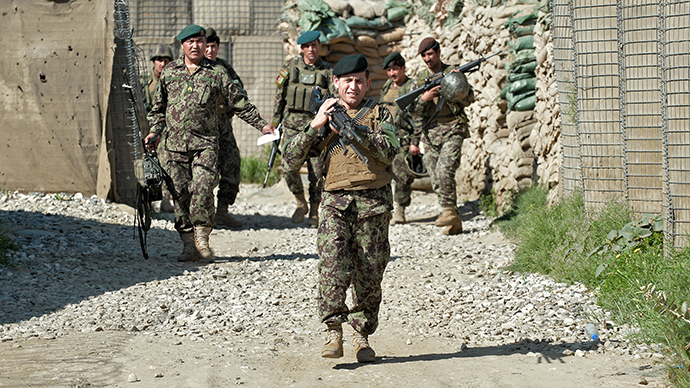 A Taliban attack on a remote military base in Afghanistan left 19 soldiers dead and up to seven others captured. Coinciding with the raid, the militant movement suspended prisoner exchange talks with the US.
The attack came early on Sunday morning and targeted an Afghan army outpost in the mountainous Ghaziabad district in the eastern Kunar province bordering Pakistan.
In addition to the 19 fatalities the assailants left two soldiers wounded, Defense Ministry spokesman, Zahir Azimi, said in a tweet.
The Afghan army has launched a search and rescue operation following the attack to try and free the captured soldiers, according to Abdul Ghani Musamem, spokesman for the provincial governor.
The provincial government believes some of the soldiers may have aided the attackers.
A number of the seven missing soldiers may have fled the pre-dawn attack to avoid capture.
Afghan President Hamid Karzai canceled his scheduled trip to Sri Lanka following the assault on the outpost.
The Taliban later claimed responsibility for the raid in a statement to the media. The emailed release said one of gunmen was killed in the fight and two others injured.
In a separate development in the country, the Taliban announced on Sunday that they have suspended talks with the US to exchange captive soldier, Sgt. Bowe Bergdahl, for five senior Taliban prisoners held in US custody in Guantanamo Bay.
The statement blamed the "current complex political situation in the country" for the suspension.
Bergdahl, 27, has been in Taliban captivity since 2009 and is believed to be held in the Taliban-dominated area on the border between Afghanistan and Pakistan.
Taliban militants have ramped up their pressure on the central government in Kabul as the scheduled time for US withdrawal draws near. The Karzai government has tried to engage in talks with the movement in the past years, but these efforts have so far brought no tangible results.
You can share this story on social media: