Maiming plague: No salvation from Taliban bombs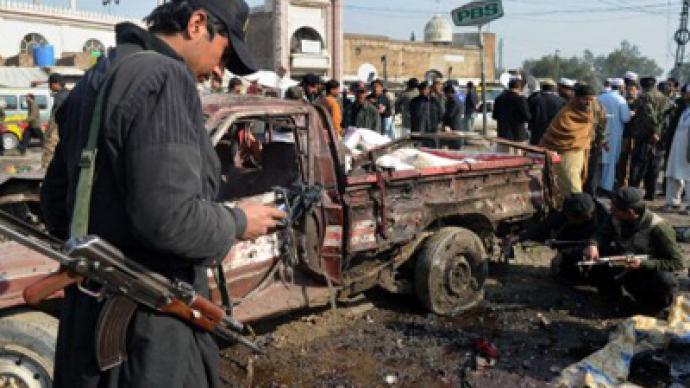 The home-made bombs used by Taliban insurgents leave their victims with horrible injuries doctors have trouble treating, which inevitably adds to an attack's death toll. And half of those who do survive the initial blast die later in hospitals.
Improvised explosive devices and suicide bomb attacks are the go-to methods for Taliban insurgents in their war in Afghanistan and Pakistan. And every year the movement gets better at finding new ways of mixing explosives using chemicals that can be easily found in ordinary shops. Local doctors say such bombs inflict horrible injuries, and even those who would survive a similar trauma in different circumstances suffer deadly complications from the chemicals, reports the Inter Press Service, a global news agency headquartered in Italy.Taliban bombmakers use potassium, magnesium, nitrogen, sugar, urea and glycerin in their blast mixes. When the chemicals get into wounds, the cause additional burns and contaminate the blood, complicating treatment. This is combined with logistical problems, which mean patients cannot be rushed to hospitals quick enough to prevent such developments.Tariq Khan, a plastic surgeon at the Khyber Teaching Hospital in Pakistan's Federally Administered Tribal Area Peshawar, says phosphorous-based explosives are the worst. "Normal burn wounds respond to antibiotics, but injuries caused by homemade nitrogen and potassium-based explosives are incurable – and the victims often die even if they have only 10 percent injuries on their bodies," he says. Dr. Sirajuddin Syed, at the Accident and Emergency Department of Peshawar's Lady Reading Hospital, said home-made bombs produce large quantities of carbon monoxide that slows the blood's ability to bind oxygen. Carbon monoxide poisoning often makes patients go into a coma and die. "Since 2005, we have admitted 1,319 people wounded by terrorist bombings – and 50 percent of them died," Syed said. "In our experience, wounds caused by gunpowder and shrapnel are curable, but not the ones caused by the Taliban's bombs." Even those lucky enough to overcome their injuries are often left with disfiguring scars for life, the doctors say.Pakistan has lost 35,000 people, including 5,000 soldiers, in Taliban bombings since the United States-led forces invaded Afghanistan and overthrew Taliban government there in late 2001. The radical group's fighters were forced to go into hiding in the little-controlled mountainous region covering both Pakistani and Afghanistan territories.
You can share this story on social media: