Treasure islands? Japan-China dispute sparks fears of war as US, Taiwan weigh in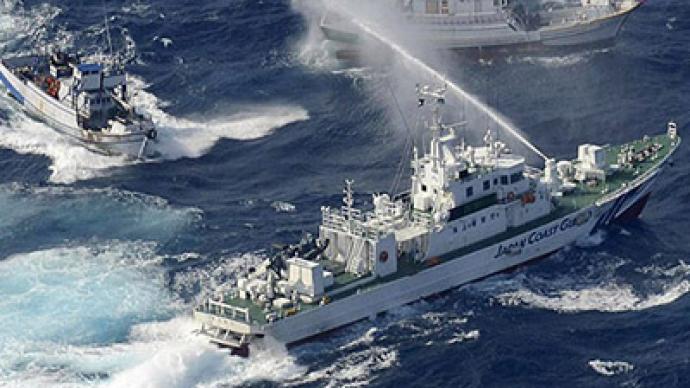 Taiwan recently entered a mounting dispute over islands in the East China Sea by sending dozens of fishing boats to the region. Analysts fear these tiny, uninhabited islands could become the flashpoint for a full-fledged international conflict.
The islands at the center of the dispute are a small archipelago off the coast of Taiwan, claimed by China, Japan, and Taiwan itself. They are dubbed the Senkaku in Japan, the Diaoyu in China and the Tiaoyutai in Taiwan. Japan annexed the islands from China in 1895 and has controlled them ever since, except when the country was administered by the US from 1945 to 1972. The waters surrounding the islands are rich fishing grounds, and a 1968 geological survey discovered possible oil and gas reserves in the area.Tokyo announced on September 5 that it was purchasing the islands from their Japanese private owner, and a whirlwind of violent protest ensued across China.Amid the mounting tensions, Beijing announced on Monday plans to deploy unmanned drones to conduct marine surveillance of the area surrounding the disputed islands by 2015. Three Chinese patrol vessels remain in the seas near the uninhabited archipelago, and have briefly entered waters which Tokyo considers Japanese territory.Taiwan then entered the dispute on Monday when it sent a flotilla of 40 fishing boats to the islands in a bid to reassert the country's fishing rights in the region. The Japanese Coast Guard used water cannons to disperse the vessels.Dr. Joseph Gerson, an expert in Asia-Pacific affairs and the Programs Director at the American Friends Service Committee, argued that these seemingly innocuous islands actually possess a surprising strategic value.
"One [reason] is that in the seabed surrounding the islands, there is thought to be considerable oil and mineral wealth, and obviously that is something that both Japan and China want," he told RT. "But perhaps more important is the strategic relationship to Taiwan; Chinese military strategy calls for attempting to bottle up Japanese and US naval, and to a degree, air forces in the event of a possible war between China and Taiwan."China does not recognize Taiwan's government, and considers the nation a renegade province of the Chinese mainland. If China attempted to seize control of Taiwan in an armed conflict, the nearby Senkaku islands could serve as a staging ground for the US and Japanese forces that would rush to Taiwan's defense.In an armed conflict with Japan over the islands, China would likewise risk US military intervention.US Assistant Secretary of State for East Asian and Pacific Affairs Kurt Campbell said last week that the US does "not take a position on the ultimate sovereignty of these islands," echoing statements made earlier by US Secretary of State Hillary Clinton. This stance is complicated, however, by existing strategic agreements between Japan and the US, as Campbell then acknowledged: "We do acknowledge clearly … that Japan maintains effective administrative control … and, as such, this falls clearly under Article 5 of the Security Treaty."Campbell was citing the 1960 Treaty of Mutual Cooperation and Security between the US and Japan, which formed the basis of US influence in the region. Article 5 states that, "Each Party recognizes that an armed attack against either Party in the territories under the administration of Japan would be dangerous to its own peace and safety and declares that it would act to meet the common danger in accordance with its constitutional provisions and processes."Under the provisions of Article 5, the US is obligated to come to Japan's defense if it is attacked, and has steadily increased its military presence and influence in the area."The US-Japan alliance requires us to intervene on Japan's behalf if there's a war," Dr. Gerson said. "They've used this as cover to make a decision to deploy more missile defenses in southern Japan, and the Japanese government used it as cover to give authorization to move the new dangerous Osprey airplanes to Okinawa. Also, clearly the US has demonstrated to both other allies in the region and to Asian nations that it is the balancer, and part of the ongoing effort to contain as well as to engage China."
Economic factors
China and Japan cooled their rhetoric after last week's tensions, and China sent a delegation to Japan to negotiate the issue. Japanese Prime Minister Yoshihiko Noda reportedly said that he "underestimated" China's resolve to oppose Japan's bid for control of the islands.China, Japan, Taiwan and the US are heavily invested in trade with each other. Several Japanese factories were closed in China last week over violent anti-Japanese demonstrations, marking a definite fraying of economic relations between the two countries. "They're both competitors and partners in trade," Dr. Gerson said."Japan certainly is going to pay for this, there's boycotts going on now of Japanese products, a number of Japanese factories in China had to close at least temporarily," he said. "During the last crisis over these islands, the Chinese, at least for a period of time, embargoed the sale and trade of rare earth, which is essential to Japan's high-tech economy. At the same time, China needs Japanese investment, so a war would cost both, and I think that's one reason why it didn't happen.""My sense is the situation has calmed after being very dangerous last week, but that doesn't mean it can't flare up at any time that it meets the interest of political leaders seeking to manipulate the situation," Dr. Gerson said.
You can share this story on social media: