UN urges Syrian govt, rebels to halt war crimes against civilians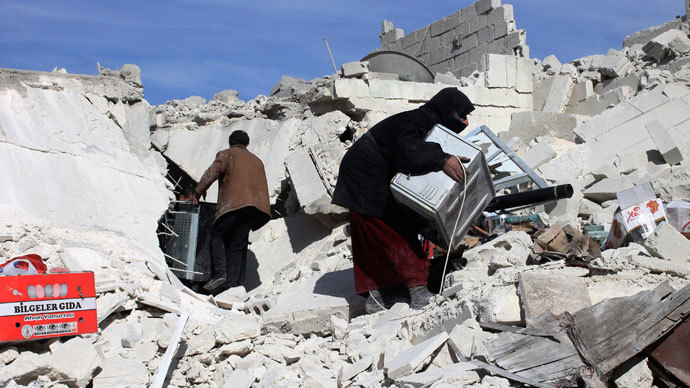 Both government and rebel forces fighting in the brutal Syrian civil war are committing war crimes by using civilian suffering, including blocking access to food, water, and emergency services, to advance their military strategy, according to UN experts.
Six unpaid rapporteurs appointed by the United Nations Human Rights Council issued a statement Thursday declaring that the denial of access to housing, sanitation, health, food, and water clearly violate human rights detailed in international treaties. Among such rights is also freedom from inhumane treatment.
"As reports are piling up of indiscriminate shelling of civilians, enforced disappearances and executions, another horror of the war in Syria is becoming apparent: the deprivation of basic necessities of life and the denial of humanitarian relief as a method of war," they said in a statement, as quoted by the UN News Center.
"Numerous cases show that government and pro-government forces as well as armed opposition groups are impending humanitarian relief to populations facing extreme deprivation, including children, women, older persons, persons with disabilities, the chronically sick, and civilians and persons hors combat held in detention," they went on.
The UN has estimated that 9.3 million people are in dire need of humanitarian aid due to the three-year conflict that erupted when initially peaceful protesters demonstrated against Syrian President Bashar Assad. At least six million people are in immediate need of sustained food assistance.
However, the UN has stressed that medical units, civilians, and humanitarian aides have been targeted in Syria - actions which are clearly and explicitly prohibited.
The Human Rights Council explained that the situation is most serious now for the more than 100,000 people trapped in Yarmouk - a suburb of Damascus where reports of widespread starvation, malnourished children, and health problems caused by lack of access to safe drinking water originated.
"Apart from obstructing humanitarian access through sieges and tight check-points, attacks have been carried out to destroy harvests, kill livestock, and cut off water supplies, with the apparent aim of starving out the targeted populations," the rapporteurs stated. "At the same time, entire neighborhoods and residencies are being razed, aggravating the dire housing situation, causing further displacement...These acts are morally abhorrent, and present a major obstacle to building peace."
There did appear to be a sign of progress on the same day the UN issued the report, though, as officials from the international committee announced they heard word of a deal that would allow humanitarian aid into the besieged region. While spokesman Farhan Haq said the UN was not privy to the reported deal, international officials hoped to soon receive permission from the Syrian government and opposition.
Syria said earlier that "innocent" civilians would soon be allowed to leave the rebel-controlled city of Homs.
"The United Nations and humanitarian partners had pre-positioned food, medical and other basic supplies on the outskirts of Homs ready for immediate delivery as soon as the green light was given by the parties for safe passage," Haq said.
You can share this story on social media: