Syrian Christians flee persecution as Patriarch urges them to stay in war-torn country
As some 450,000 Christians have fled Syria since a civil war erupted two years ago, the Syrian Patriarch of the Melkite Greek Catholic church has called on Christians to stay in Syria and survive a "difficult" future.
"I say to my children, stay in your country, the future will be difficult, but it will be better, God willing," Syrian Patriarch Gregory Laham told AFP in an interview.

On the eve of a trip to the Vatican for meetings with Pope Francis, Laham urged European countries to not "encourage Syrian Christians to emigrate."

"I say to the European countries that want to help, help people in difficulty, humanitarian cases but don't encourage people to emigrate," he said.

According to the cleric, 450,000 Syrian Christians have been forced from their homes by the civil strife that began in March 2011.

The religious leader said that between 1,000 and 1,200 Christians, both soldiers and civilians, had been killed.

Pope Francis also said the Catholic Church "will not resign" itself to a Middle East without Christians.

"Syria, Iraq, Egypt and other areas of the Holy Land sometimes overflow with tears," he said on Thursday, calling for "the universal right to lead a dignified life and freely practice one's own faith to be respected."

RT correspondent Paula Slier was in Syria, where she got a firsthand look at the devastation suffered by dozens of Christian churches.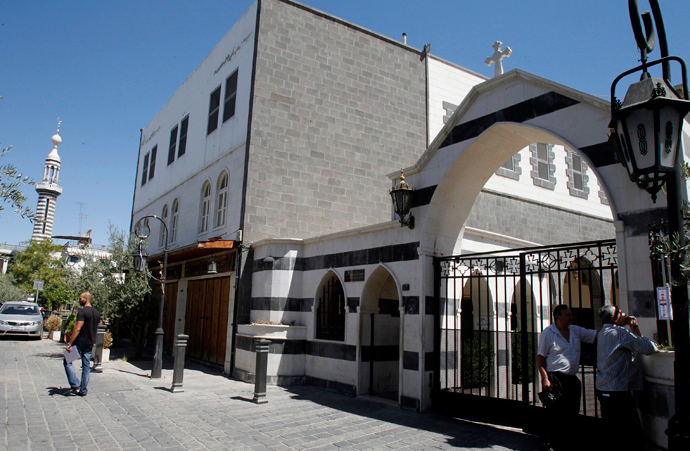 After the murder of Father Bassilius Nassar in January 2012 by rebels, threats and persecutions against Christians in Syria have escalated to the level faced by Christians in Iraq, Slier reports.

In August, the Christian town of Maaloula outside of Damascus was attacked by rebels. Dozens of soldiers were killed and many residents fled.

Patriarch Laham pointed out that Christians have not been the only victims of the violence.

"Christians are not the only ones being targeted. All Syrians are being targeted, Shiites and Sunnis and Druze and Christians from all denominations."

He also mentioned that "at least 57 Christian sites" have been damaged or destroyed since the beginning of hostilities, and he blamed the United States and its Western allies for aggravating the situation by providing assistance to the rebels.

"This is the church. Unfortunately, it was not like that before. Look at this destruction and mess. From here the explosions were coming down on people praying. Of course people started crying out for help from us. The priest was right here and they were captured right here in the church," Syrian army soldier Bassam Shaaban told RT's Paula Slier.

Christians, who comprise about 10 percent of Syria's population, are viewed as supporters of President Bashar Assad, fearing the Islamist ideology of some rebels. This has made them the target of attacks.

"I believe it is all systematic and planned," Sami Housni, a Christian priest in Damascus, told RT. "Forcing Christians to leave… In Iraq, for instance, less than 200,000 Christians remain. We do have concerns, we do hope to stick to our land – Syria, which is the cradle of Christianity. We also hope that the Pope and heads of Christian denominations shall call for denouncing violence and adopting dialogue."

The civil war between insurgent rebels and government forces loyal to Assad has killed more than 120,000 people, according to UN estimates, and displaced millions over the last two years.

The International Society for Human Rights says that four out of every five acts of religious discrimination in the world today are perpetrated against Christians. Nowhere is this more acutely felt than in the Middle East and North Africa.

American think tank the Pew Forum says that Christians now face harassment and oppression in more than 139 countries worldwide.

You can share this story on social media: