Rebel videos, photos show US-made rockets in Syria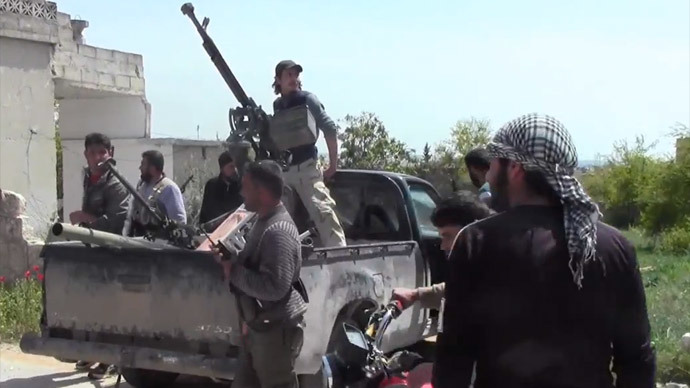 Recently emerged videos and photos show Syrian rebels armed with what experts say are US anti-tank rockets. These are the first significant American-built armaments to be seen in the country, as the civil war reaches a stalemate.
Although it was not possible to independently verify the footage – most of which has now been removed from YouTube – analysts said that BGM-71 TOW anti-tank rockets, made by the US, were shown in the videos. However, they added that the rockets could have been supplied by an American ally such as Saudi Arabia, possibly with Washington's tacit agreement, Reuters reported.
"With US-made TOW anti-tank missiles now seen in the hands of three groups in the north and the south of Syria, it is safe to say that is important," said Charles Lister, a visiting fellow at the Brookings Institution Doha center, who was one of the first people to identify the weapons.
Three videos were initially posted on April 1 and April 5. Two were removed, but one – which appears to show what may be a rocket in the back of a pickup truck – remains. A clearer still image was posted by Lister in the Huffington Post last week.
Other arms experts and analysts have also reviewed the videos and photos. The rebel faction operating the missiles has been identified as Harakat Hazm, a relatively secular and moderate group.
Samer Muhammad, an opposition activist now based in southeastern Turkey and a former member of Harakat Hazm, told Reuters that the rockets were provided by the Americans.
He said that Harakat Hazm had received 10 anti-tank missiles earlier this month near the cities of Aleppo and Idlib, in northeastern Syria. He also said that Harakat Hazm used five of them to destroy four of Assad's tanks in a battle in the Idlib suburbs, though this information could not be verified independently.
US officials have declined to discuss the origin of the missiles, which appeared around the same time that Washington announced it was going ahead with plans to increase aid – including lower-level weapons – to moderate Syrian rebels.
Bernadette Meehan – a US National Security Council spokeswoman – said the Obama administration is giving support to Syrian rebels, but did not elaborate.
"The United States is committed to building the capacity of the moderate opposition, including through the provision of assistance to vetted members of the moderate armed opposition, as we have consistently said we are not going to detail every single type of our assistance" she said.
There have been other videos of rockets in the hands of the Syrian Revolutionary Front, which is also seen as moderate.
But if Washington was unwilling to supply actual TOW rockets, Lister points out, then they could have easily originated in Saudi Arabia – which has thousands of anti-tank missiles in its arsenal.
"Considering the groups already seen with these missiles systems and considering Saudis already established reputation for providing weapons to moderate groups. Saudi would seem the most likely candidate at this stage," Lister said.
Other Arab nations which have supported Syria's rebels in the past include Qatar – although the Qataris do not officially stock such hardware. In the past, Chinese-made HJ-8 missiles have appeared in the hands of hardline Islamist rebels, which were thought to have come from Qatar.
"I suspect there's been two waves of Chinese weapons, the first from Qatar and the second from Saudi Arabia going to different groups," said Elliot Higgins – a British-based self-taught arms and video specialist, who has become one of the leading authorities on foreign firepower being used in Syria.
A report published in January and seen by Reuters said that American and European security officials confirmed that the US will provide anti-tank rockets to the Syrian rebels, but not the more deadly shoulder-launched surface-to-air missiles.
It is not known exactly when Congress approved the funding, but sources speculated that it was in a classified section of a defense appropriations bill that was approved in December.
There are also reports of Iranian and Russian equipment in Syria, which is being used by Assad's military. The Iranian unmanned Shahed 129 drone was photographed over Damascus. While the Syrian government has been using Russian-made BM-27 and BM-30 rocket launchers, the BM-30 and Iranian equipment was not previously known to be part of Assad's weaponry, according to Higgins.
However, analysts note that none of the equipment flooding into Syria is likely to alter the tide of battle in a war which has reached a stalemate, with Assad's forces in control of Syria's central cities and the Mediterranean coast, and the rebels in control of the north and east of Syria's interior.