UN chemical team arrives in Syria to finish investigation
UN inspectors have returned to Syria to continue investigating several cases of alleged chemical attacks in a follow-up to their previous report, which prompted the international community to draw radically different conclusions.
The inspectors, led by chief expert Ake Sellstrom, arrived in Beirut, Lebanon, and from there traveled overland to Damascus.

A convoy of five United Nations cars carrying at least eight members of the team arrived at a central Damascus hotel shortly before midday (09:00 GMT), Reuters cited a witness as saying.

The teams will focus on examining 14 alleged attacks when chemical weapons or chemical agents were used during the 30-month conflict that the UN estimates has killed more than 110,000 people.

In August, the Syrian government allowed the UN expert team to visit and take probes at three locations. One site to be visited by the UN team is at Khan al-Assal, near Aleppo, where President Bashar Assad's government says rebels used chemical weapons in March. Two additional locations have not yet been confirmed.

The team hopes to be able to present a final report, addressing all of the accusations, "possibly by the end of October," AFP reports.

The UN experts first came to Syria in August to investigate three earlier cases of suspected chemical weapons use, including the Khan al-Assal attack in March among them. But their work was disrupted by the Aug. 21 attack in Damascus's eastern Ghouta suburbs.

The team spent three days at the beginning of September gathering evidence at the scene and presented its findings to the UN in a 38-page report issued Sept. 16.

The inspectors confirmed that sarin gas was used "on a large scale" in an attack in Damascus which killed hundreds of people, but did specify who was behind it.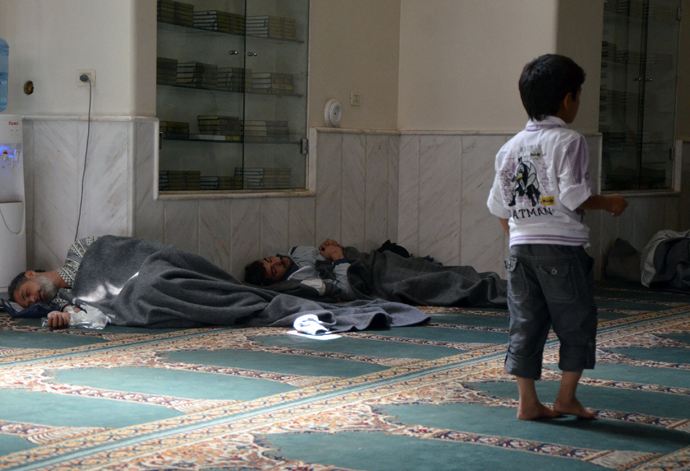 Both Syria's government and rebel forces have accused each other of using chemical weapons, and both sides have denied carrying out attacks.

However, the US and Britain were quick to accuse the Assad regime of perpetrating the August 21 attack, based on the warheads' technical characteristics, established by UN experts.

Russia and Syria accused the US and its allies of jumping too quickly to conclusions. Damascus claimed that the UN had ignored evidence passed to them confidentially.

Assad's government has agreed to put its chemical weapons arsenal under international control and eventually destroy it to avert a military strike threatened by the US.

Under the plan agreed by Russia and the US in Geneva, Assad's government had one week to hand over a complete inventory of its chemical weapons arsenal.

Damascus was also obliged to give the Organization for the Prohibition of Chemical Weapons (OPCW) "the immediate and unfettered right to inspect any and all sites in Syria."

Syria will join the Chemical Weapons Convention on October 14, according to the UN.

The UN Security Council is currently working on a resolution that will be conducted "within a framework that was agreed between Russia and the US in Geneva."

Speaking at the UN General Assembly, President Barack Obama welcomed Syria's compliance with the Russia-US plan, saying the Damascus government had "taken a first step."

Obama said he was seeking firm guarantees that Syrian will do what it agreed to.

"There must be a strong Security Council resolution to verify that the Assad regime is keeping its commitments. And there must be consequences if they fail to do so," Obama said.

While the US does not rule out a strike on Syria, Russia, which believes the Aug.21 attack was a provocation by the rebels, is calling for a so-called "Geneva-2" peace conference.