Veteran UN envoy Brahimi to replace Annan in Syria – diplomats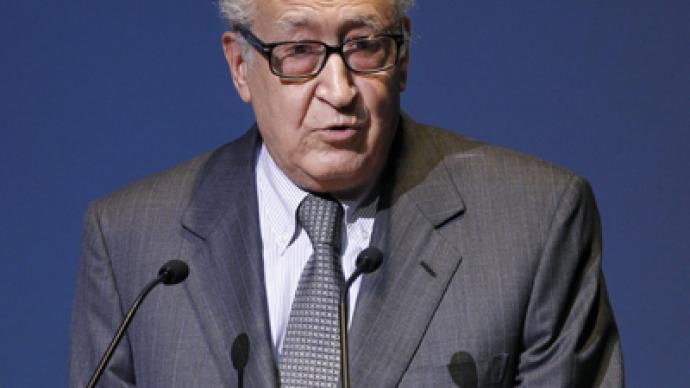 Former Algerian foreign minister Lakhdar Brahimi is expected to replace Kofi Annan as the new UN and Arab League envoy to Syria, diplomats say. Annan announced last week that he would step down as the mediator in the crisis.
Known as a diplomatic trouble-shooter, Brahimi served as United Nations special envoy to Afghanistan, Iraq, Haiti and South Africa. He retired from his duties at the end of 2005.Former UN chief and Nobel Peace Prize laureate Kofi Annan said last week that he was leaving his post due to a lack of international support for his effort to end the 17-month conflict in Syria, which has reportedly claimed 17,000 lives so far. The official announcement on the new joint-UN and Arab League envoy to Syria could come as early as next week, according to some diplomats, though they added there is still a chance of last-minute changes, Reuters reports. Earlier, the US ambassador to the United Nations, Susan Rice, said that she was "open-minded" about taking the position of special envoy to Syria."We have to be realistic. It is a very difficult job and Kofi Annan did it admirably and found himself understandably frustrated at the end," Rice said of Annan's efforts to bring peace to Syria.In April the UN Security Council approved the deployment of 300 observers to monitor the ceasefire brokered by Kofi Annan. However the mission has not brought any results as neither the Syrian government forces nor the rebels maintained the ceasefire. The mission was extended for 30 days and the Security Council is scheduled to meet on August 16 to discuss the future of the UN mission in Syria.
'Alternative UN presence in Syria'
Rice said that the US is willing to consider an alternative UN presence in Syria, stating that there was no point renewing the observer mission as there was no longer a ceasefire for the monitors to observe."That portion of UN activity is not able to function, so that will not continue as far as we are concerned," she told reporters, as quoted by Reuters. "We would certainly be willing to entertain other conceptions of a UN presence.""There will be a country team, there will be a humanitarian presence, and perhaps there will be recommendations that are more political in nature that we can consider favorably."Meanwhile the UN Secretary-General, Ban Ki-moon, has once again stressed the gravity of the situation in Syria, warning of the prospect of a long-term civil war there and urging the international community to work together to resolve the ongoing crisis.
"All of us have a responsibility to the people of Syria. We must use all of the peaceful means in the UN Charter to help them unite around a Syrian-led transition process that is based on dialogue and compromise by all sides on the ground – not bullets, arrests, abductions and intimidation," he said in a message delivered on his behalf to an international consultative meeting on Syria, which took place in the Iranian capital, Tehran, on Thursday.
You can share this story on social media: