Iraqi, Lebanese Shiites unite to 'protect Damascus shrine from Sunni rebels'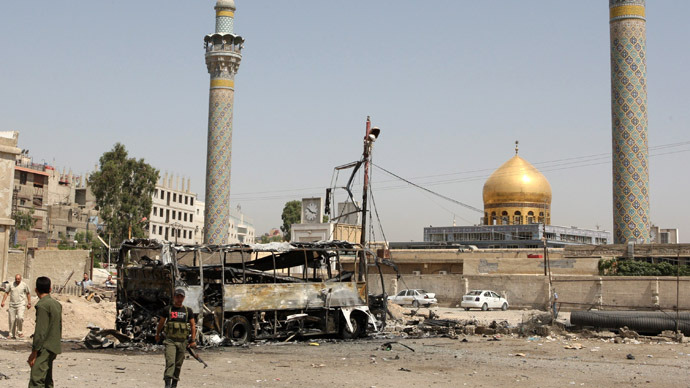 A Shiite military unit has emerged in Damascus to fight Sunni rebels, while also pledging independence from Syrian President Bashar Assad. The multi-ethnic brigade reportedly claims their only aim to protect a local shrine.
The presence of Shiite combatants from Iraq and Lebanon in the Syrian capital was confirmed to Reuters by sources in Iraq and Syria.

Their move to set up a military brigade and protect one of the major Shia relics in Damascus – the shrine of Sayidda Zeinab, granddaughter of the Prophet Muhammad and daughter of Imam Ali, believed to be the father of Shia Islam – follows reports that rebels have destroyed or damaged other Shia holy sites across the war-torn country.
A video from Syria's northern Idlib province was posted online in mid-December showing dozens of anti-Assad fighters congratulating and kissing each other in front of what was believed to be a Shia mosque burned down by the rebels. The incident was condemned by Human Rights Watch, which in a January statement confirmed that rebels in Syria had desecrated and looted the religious sites of various minorities.

"While the motivation for the church break-ins may have been theft rather than a religious attack, opposition fighters have a responsibility to protect religious sites in areas under their control from willful damage and theft," Human Rights Watch said.
Sayidda Zeinab's shrine in Damascus has been damaged before – last June, a suicide bomb attack took place near it.
The majority of the brigade set up to defend the shrine are Iraqis who had fled their country and found refuge in Syria before the war began, Reuters reported.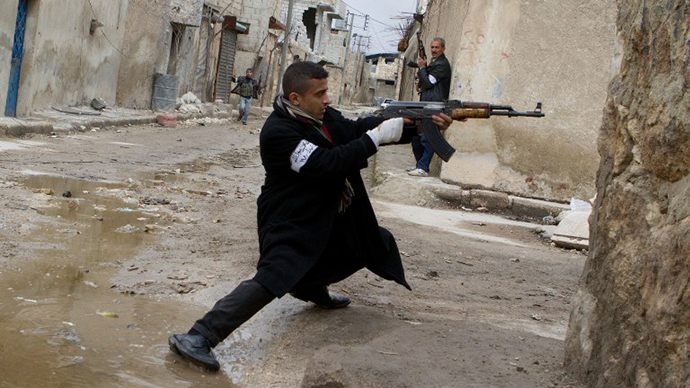 A Shiite Iraqi official interviewed by Reuters said the rebels "wanted to destroy the Sayyida Zeinab shrine and hundreds of Iraqi Shiites who were already living in Syria stood up to them and fought back."
The government of Iraq continues to maintain neutrality concerning the civil war in Syria. However, last week, Iraqi Prime Minister Nouri Maliki warned of the potentially dangerous consequences to neighboring countries of a rebel victory.
"Neither the opposition nor the regime can finish each other off…. The most dangerous thing in this process is that if the opposition is victorious, there will be a civil war in Lebanon, divisions in Jordan and a sectarian war in Iraq," he said, according to Al Jazeera.

Iraq has lately seen a rise in tensions between its majority Shiite community and the Sunni minority.

This weekend, Iraq appeared to come closer than ever to the Syrian conflict. After rebels captured the town of Yaarabiya on the Iraq border, Iraqi's troops fired warning shots to deter rebels from crossing the border.
A UN report issued in December described the fight in Syria as "overtly sectarian." Anti-Assad rebel forces are reportedly composed of Sunnis from Afghanistan, Libya and other countries. Their uprising, which has lasted for 23 months and killed around 70,000 people, has been waged against a government dominated by Alawites, an offshoot of Shia Islam.
Despite the UN's concerns and reports of growing divide between Syria's Muslims, the Syrian conflict cannot be regarded in terms of Sunnis versus Shiites, writer and journalist Neil Clark tells RT.

The Shiite and Alawite population makes up about 13 per cent, but a large part of the dominant Sunni population also supports the government or stands against its violent overthrow, together with large Christian communities, he says. The Syrian army is also composed of various religious groups, Clark notes.

"It's clear though that outside actors, who are desperate for violent 'regime change' in Damascus, want to see the conflict become a 'Sunni v Shia' sectarian one as they know that the Sunni have the numbers on their side. But the majority of ordinary Syrians, having lived for years in a country where religious tolerance was the norm, do not favor religious extremism and this gives us hope that a full scale sectarian conflict can be avoided," Clark told RT.

You can share this story on social media: