Syrian schools to offer Russian as second foreign language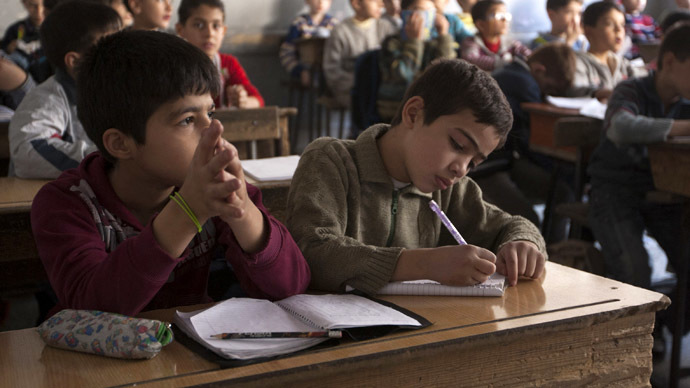 Syrian government announced it will be offering Russian as a second foreign language in schools starting with the fifth grade.
The new decision was posted on Syria's ministry of education website. Fifth graders will have the choice between Russian and French as part of their secondary school curriculum.
The language was chosen because of "sympathies to Russia, from the interest to its great culture," according to the ministry.
"All necessary preparations for the launching of the Russian language programme at Syrian schools will be completed by the next academic year," Itar-Tass quoted Minister of Education Hazwan Wazz as saying.
Russia and Syria share strong and stable historic ties, especially in regards to military and economic cooperation.
In fact, more than 20,000 families in Syria are mixed with at least one Russian parent. At the same time, more than one generation of Syrians received their post-secondary education in the former Soviet Union and Russia.
From the military perspective, the Syrian port of Tartus hosts Russia's only Mediterranean naval base. The base was established by the Soviet Union during the Cold War. In addition, Syria has purchased military equipment from Russia.
Economic cooperation has also been significant between the two nations. Russia's exports manufactured goods to Syria, along with investments in Syrian infrastructure, energy and tourism industries.
You can share this story on social media: