'Bound for Syria' Russian warship remains unloaded in port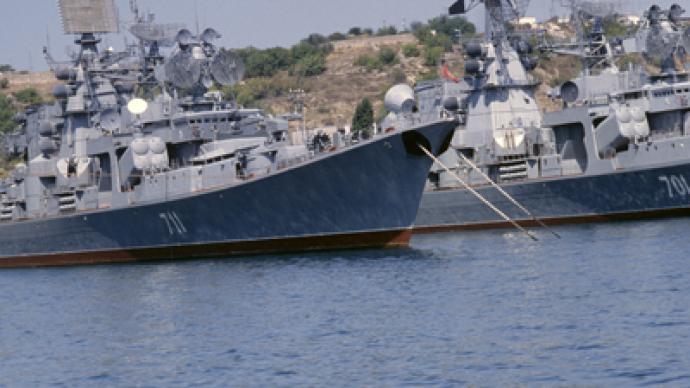 The Russian warship which was reported as moving towards Syria with a unit of commando troops, is at its home port on the Black Sea, Ukraine's Sevastopol.
The US media cited intelligence sources as saying last Sunday that the landing ship Nikolay Filchenkov was traveling to the Russian naval base in Tartus, Syria. The vessel was said to be carrying arms and a unit of amphibious commando troops, who would be used to secure the Russian base in the troubled country from a possible attack.The vessel, however, is still in Sevastopol, the home of the Russian Black Sea Fleet, as a journalist from the Russian news agency RIA Novosti witnessed. The ship is not even loaded, as apparent by its draft, the report says.The agency cites a naval officer familiar with the situation as saying that Nikolay Filchenkov has remained in this position since June 8."The ship is ready for deployment just as any warship of the Navy on duty. There are no marines on board and we received no orders to set sail to Syria. The crews are engaged in their normal routines," the officer said.Earlier this week Washington and Moscow clashed over Russian arms in Syria. US Secretary of State Hillary Clinton lashed out at Russia over a shipment of combat helicopters, which she said the Syrian government could use in a crackdown on the opposition forces. It was later revealed that the aircraft in question were not new machines, but rather Syrian-owned helicopters, which Russian engineers had overhauled under a standing contract. Russia was obliged to return the helicopters to their proper owner.Russian Foreign Minister Sergey Lavrov stressed that Russia does not sell to the Syrian government any arms, which could be used against the opposition, unlike the US, which sells anti-riot equipment to the governments of its Gulf region allies. The minister was referring to US supplying crowd control arms to Bahrain and other controversial allies, who are known to suppress domestic dissent with force.
You can share this story on social media: