US would like to weaken the regime in Syria - journalist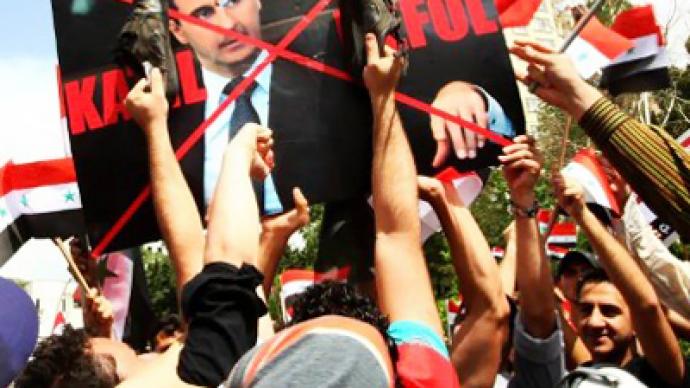 The US has renewed calls on Syria to immediately halt its crackdown on anti-government protesters, with the White House strongly condemning President Assad's actions.
The Syrian military has expanded its deployment of forces to restive regions in the north and east of the country on Tuesday, with hundreds of displaced civilians gathering near the Turkish border. Government troops are said to be pushing rebel forces further from the northern town of Jist Al-Shugur after taking full control of the area. The government retook the town Sunday, prompting the exodus of civilians. The advance has sent another wave of civilians fleeing towards the Turkish border.According to human right groups, at least 1,400 people have been killed since the beginning of the crackdown in mid-March and some ten thousand detained.Meanwhile, Britain and France are pushing a draft UN resolution. However, Russia and China, who oppose any attempts to intervene in the Syrian conflict, have said they will not back the move.The journalist Simon Assaf believes that even if the UN resolution is passed it will not be very workable. He says people are very suspicious of the reasoning behind the resolutions. "The problem is that those who support the Syrian regime and the Syrian government can point to the very simple fact that there have been many UN resolutions for the Middle East and its voice is ignored and doesn't apply to Israel. So they can put an argument and say why are they putting UN security against us, but they don't apply it to Israel. What has to happen in this case has simply led to confusion on the ground." Assaf also thinks that US intentions regarding Syria are clear. "I think it is quite straight forward…the US would like to see an opportunity to weaken the regime," Assaf said.
You can share this story on social media: