Fierce fighting on Turkish-Syrian border risks igniting broader conflict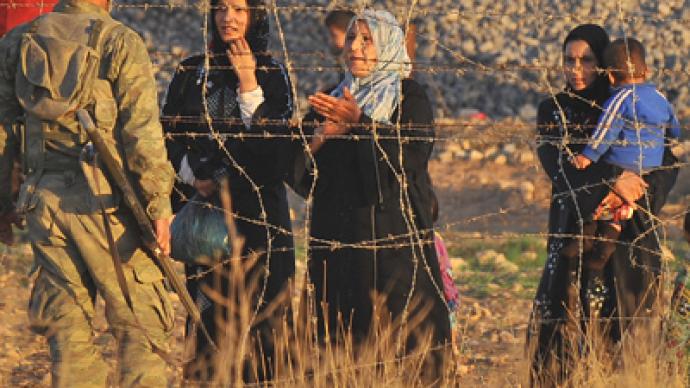 Syrian shelling and airstrikes targeting rebel positions on the Turkish border have killed at least 12 people. NATO vowed to "do what it takes to defend Turkey" as fighting on the Turkish-Syrian border risks sparking a broader regional conflagration.
A Syrian fighter jet reportedly bombed the rebel-held position three times on Monday, killing more than a dozen people in the frontier town of Ras al-Ayn, the Syrian Observatory for Human Rights said.A Turkish official told AP on condition of anonymity that 70 people injured in the airstrike had been brought to Turkey for treatment, where eight more of them died.Turkish Foreign Minister Ahmet Davutoglu told reporters in Rome the jet did not cross his country's border, though Turkey would have responded if it had.
Officials and witnesses also reported that a rocket-propelled grenade landed in Turkey, though no immediate retaliatory measures were taken. No causalities were reported.On Thursday, anti-Assad forces overran the frontier town of Ras al-Ain in Syria's mixed Arab and Kurdish northeast, taking control of three security compounds. Syrian tanks and artillery were deployed soon thereafter, with helicopters strafing rebel positions over the last two days.One bomb dropped from a Syrian warplane some 10 meters from the border killed four and seriously wounded around 20 more, Anatolia news agency reported."There are wounded on the Syrian side but also in [the Turkish border town] Ceylanpinar because of the windows blown out by the explosion," AFP cites the town's mayor Ismail Arslan as saying."The ambulances are transporting the wounded without stopping," he continued. "There is bomb damage everywhere."A Syrian helicopter bombed rebel positions south of Ras al-Ain, with rebel fighters responding with machine gun fire, an official at the local mayor's office in Ceylanpinar said on condition of anonymity.
A broader conflict brewing?
Turkey reported the incident to NATO and the United Nations Security Council on Monday, saying the attacks endangered its security. NATO Secretary General Anders Fogh Rasmussen reaffirmed the military alliance's support for Turkey."NATO as an organization will do what it takes to protect and defend Turkey, our ally," Rasmussen said in Prague on Monday. "We have all plans in place to make sure that we can protect and defend Turkey and hopefully that way also deter so that attacks on Turkey will not take place."The NATO chief did not comment on the potential deployment of Patriot surface-to-air missiles to bolster Turkey's border defenses. The move could also be viewed as the first step in enforcing a buffer zone within Syria to limit the extent of Syrian air power.Plans to deploy the Patriot missiles were first floated after an errant mortar killed five Turkish civilians in the town of Akcakale – located 60 miles from the border with Syria – last month.
The 20-month uprising to oust Syrian President Bashar Assad has come increasingly close to spilling over the country's 550-mile border with Turkey.Scores of Syrians have flooded into Turkey over the last two days as a result of the most recent fighting. Ankara has become increasingly worried as an estimated 9,000 Syrian refugees crossed into Turkey in one 24-hour period last week, bringing the total to around 120,000.Despite intermittent shelling of Syria, and its role in supporting the anti-Assad rebels, Turkey has thus far been reluctant to get embroiled in an all-out confrontation with Syria.But with the Israeli military firing on a Syrian armored vehicle on Monday after an errant mortar shell landed in the Golan Heights, the Syrian civil war risks devolving into a broader regional conflict.
You can share this story on social media: