Iraqi PM: Turkey not threatened by Syria, don't overblow war or drag in NATO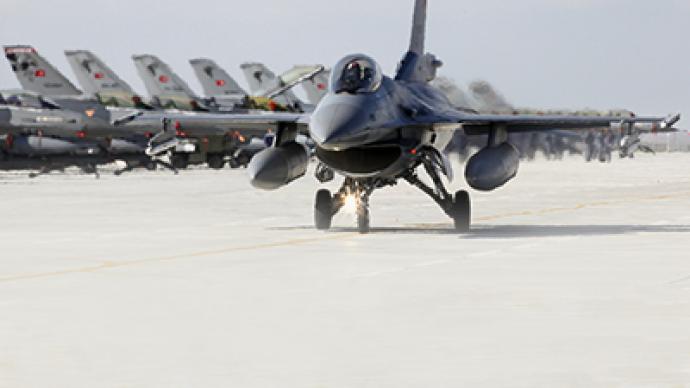 NATO must not use protecting Turkey as a pretext to intervene in Syria, the Iraqi PM said during a Russian press conference. The statement followed an escalation of tensions between Turkey and Syria following last week's cross-border shelling.
"The story goes that supposedly Syrian planes dropped bombs on Turkish territory, but everything has been over-exaggerated, even if it did really happen,"  Nouri al-Maliki said.
He argued that no one was threatening Turkey, and that there was no need for them to call on NATO for support.
"Turkey is being presumptuous, you could say, as if it were taking responsibility for solving the Syrian conflict instead of the Syrian people and wants to impose its own solution. For this reason the international community needs to stop Turkey from intervening," he said.Al-Maliki is on a three-day visit to Russia, where he said that Iraq's position on Syria is similar to Russia's one as both countries are calling for peaceful resolution of the conflict. Meanwhile, Russian President Vladimir Putin postponed a visit to Ankara, Turkey, because of his busy schedule this month, the Kremlin press office told RT. Putin's decision to postpone the visit came amid increased antagonism between Turkey and Syria. Previously, Russian Foreign Minister Sergey Lavrov appealed to Damascus and Ankara to negotiate to avert an escalation in the conflict, referring to the shelling as a "tragic casualty.""To Moscow's great disappointment Ankara has taken a very firm stance against President Assad in the Syrian conflict, Turkey has practically become a base for the so-called 'Friends of Syria.' … Ankara's actions contradict Russia's calls not to take sides in the conflict," journalist and political commentator Sergey Strokan told RT.The Turkish government also bolstered its military presence in the region, including the deployment of 25 F-16 jet fighters to the Diyarbakir base, 100 kilometers from the Syrian border.
Reports of Iraqi involved in weapon delivery to Syria 'untrue'
While in Moscow, Al-Maliki also pushed back on allegations that Iraq allowed Iran to deliver weapons to Syria through its territory."This is not true," he told Interfax on Wednesday, arguing that the claims are politically motivated. "We have been doing random checks of aircrafts and have not discovered any weapon aboard.""We have found no evidence of Iranian planes carrying weapons to Syria. We clearly stated to Syria and Iran that we allow delivery of different cargo, but not weapons," he said.Earlier, the US urged Iraq to close its airspace to Iranian planes.Strokan points to Maliki's latest statements as evidence that Arab opinion on the Syrian conflict is fractured."Many want to present the situation the way that Russia with its principal position towards Syrian question puts itself in the opposition to the entire Arab world, which allegedly already fully supports Syrian opposition. But, as we see, Iraq's statements stand in stark contrast with statements of Persian Gulf monarchs," Strokan said.
You can share this story on social media: