Shelling resumes at Turkish-Syrian border - reports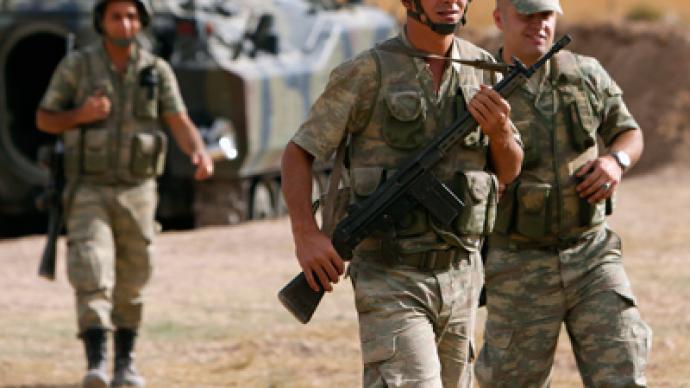 The Turkish military reportedly fired at Syria on Saturday morning in response to mortars from Syria landing near a Turkish farm. If follows a similar incident on Friday.
Two mortar shells landed in rural areas near the village of Guvecci in the early morning and at midday.The exchange occurred near the village of Guvecci in Hatay province according to Turkey's Anadolu Agency. "It is assessed that the shell was fired by Syrian Arab Republic security forces at opposition forces along the border," the Hatay governor's office said in a statement on its website said.US Defense Secretary Leon Panetta has expressed concern that the continued exchange of artillery fire between Syria and Turkey could lead to further escalation of the conflict and may spread to neighboring countries, AP reports. Earlier on Friday afternoon a mortar shell fell near the town of Yayladagi, some 50 meters away from the Syrian border. The Turkish army immediately "fired back at targets" within Syria, Turkish media report quoting officials.No injuries were reported in Turkey from either incident.At the same time RT's correspondent Paula Slier reports that the shelling of Turkish territory is done from a Syrian region controlled by rebel forces, which prompts some observers to speculate that the rebels are trying to provoke their ally Turkey into a military intervention against the government of Bashar al-Assad.Meanwhile, the Britain-based Syrian Observatory for Human Rights reported that after hours of fights rebels had attacked army positions in the Syrian villages of Khirbet al-Jouz and Darkoush, some 16 kilometers (10 miles) from Guvecci. The organization reports 25 soldiers and three rebels were killed. "After seizing the village, the rebels raised the revolutionary flag over a former army checkpoint in the area," AFP quotes the Observatory's chief Rami Abdul-Rahman as saying.
'Attacks on Turkey fatal mistake'
On Friday, Turkish Prime Minster Recep Tayyip Erdogan warned Syria that future attacks on his country's territory would be a "fatal mistake," Reuters reports."We are not interested in war, but we're not far from war either. This nation has come to where it is today having gone through intercontinental wars," Erdogan said in his speech. "Those who attempt to test Turkey's deterrence, its decisiveness, its capacity, I say here they are making a fatal mistake." On Friday, the US said it supports Turkey, saying that "action is appropriate."The White House spokesman Josh Earnest also said that the United States "condemns the violence and the aggressive actions of the Syrians."Author and journalist Afshin Rattansi told RT that this kind of flashpoint could create World War III."Turkey is a NATO member. NATO says it will defend any NATO member. If Turkey continues like this, Syria might see itself getting increasingly desperate and retaliate with full force," he explained. "Then it is up to the US and Britain and European NATO allies just figure out what to do. What we need urgently right now is a peace conference. The Arab League have proved themselves useless. The UN have proved themselves useless. It is up to China and Russia because they are the only people stopping the full-scale war that will only help forces such as Al-Qaeda."The exchange of fire between the two countries follows a similar incident on Wednesday, which left five people dead and eight others wounded.Turkey's artillery pounded targets inside Syria for twelve hours in retaliation for the killings.On Thursday, Turkey's parliament also authorized cross-border military operations into Syria "when necessary."The UN Security Council has urged Ankara and Damascus to exercise restraint.Russia says it has received assurances from Damascus that Wednesday's strike on Turkey was a tragic accident. But Erdogan dismissed that pointing out this was not the first time Syrian mortar rounds had reached Turkey. Previously, bombs had been hitting non-residential areas, said the PM, so Turkey only filed protests. The PM stressed that the deaths of two women and three children could not have been handled the same way.
You can share this story on social media: